To hide your sliding glass door or a big window in a stylish and practical manner, maybe you'd want to install a cover. The problem may be easily solved with these curtains for sliding glass doors. 
But, the addition of sliding glass door blinds to your house will give it a contemporary look and feel. They may be used for a wide variety of purposes and in a wide variety of settings, including patios, enormous French doors, closets, and room dividers.
So, here we are providing you with the best blinds for sliding doors. Come and read on. 

Allusion-Designed Patio Door Blinds
Image Source: Barnes Blinds
When it comes to french doors, nothing beats the sleek design and practicality of Allusion blinds. If that's the case, then illusion blinds are completely permeable. And you can just go right through the door without having to pull them back!
Suggestions you should consider:
Allusion blinds are great if you're going for a sleek, contemporary look. Be sure to match the sliding door's hue for uniformity's sake. 

If you want to block some of the light and view from outside, but yet let in some, then allusion blinds are for you. 

Use these blinds on a bigger, more prominent sliding door, preferably of the bi-fold kind, to draw attention to its size and shape.
Roller blinds for huge patio doors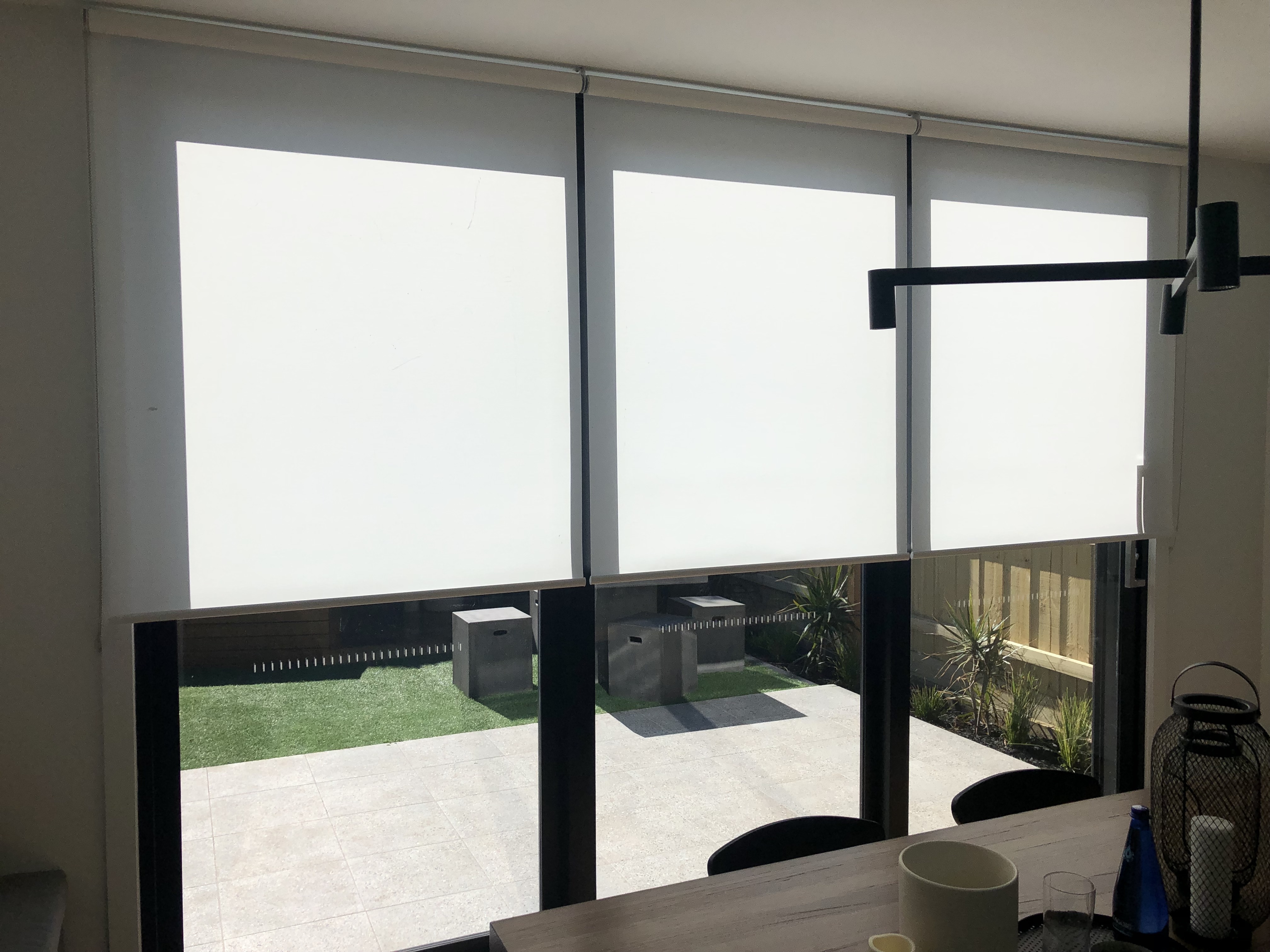 Image Source: DIY Blinds
Roller blinds are one of the most adaptable types of window coverings since you can choose from a wide range of designs, materials, and colors, and even add special features like blackout fabric or remote control.
Some ideas for you:
They are attractive and practical for big windows, bay windows, bifold doors, and sliding patio doors. 

Roller blinds are more readily available for smaller windows and doors than other types of blinds since they are often longer than they are broad. 

If you have a very big sliding door, it may be challenging to locate one of them. Having several blinds is a practical choice for covering big window panes. Because each blind may be mounted on its own roller, you'll have far more control over how much light enters the room and how long the blinds need to be at any one time. 

Moreover, it is highly recommended that you have blinds made to measure for your patio doors. 

Add some classic elegance with white roller blinds if your door is plain and has black borders.
The French Door Roman Shades
Image Source: Budget Blinds
The benefits and drawbacks of using roman blinds on sliding glass doors are comparable to those of using roller blinds. Like roller blinds, Roman blinds come in a broad variety of colors and patterns, but they become harder to find as your sliding doors expand in width.
Few tips for you:
Use a pattern that complements the color palette for a bolder aesthetic statement. The key is to keep things basic and understated. 

One further bit of advice for the design of a sliding door is to include some element of seclusion into it. A design like a fence would be perfect. 

If you don't stick to the established color scheme, your blinds will seem garish and out of place. 

In order to avoid having your sliding glass door appear like it doesn't belong, it is essential to have blinds that are a great match for the door.
Custom-fit patio Sliding doors blinds
Image Source: Pinterest
When searching for the ideal blinds and shades for sliding patio doors, perfect-fit blinds are an excellent choice. Perfect-fit blinds provide you with a great deal of freedom of movement since they are fitted within the window frame.
Points to think about:
You may get roller, roman, or Venetian blinds, as well as a plethora of other designs, from ideal fit for your sliding glass doors. For those who are visually impaired, this choice provides a wealth of new font options to explore. 

If uniformity is important to you, be sure to keep to the color scheme by acquiring a blind that is similar to the wall color and sliding door edges. But if you believe a striking contrast would work, go with your instinct. 

A room with horizontal blinds gives off an image of simplicity and offers up additional options for a new breeze. Even yet, when combined with the sliding door, it adds both style and seclusion.
External Shades for patio Door frames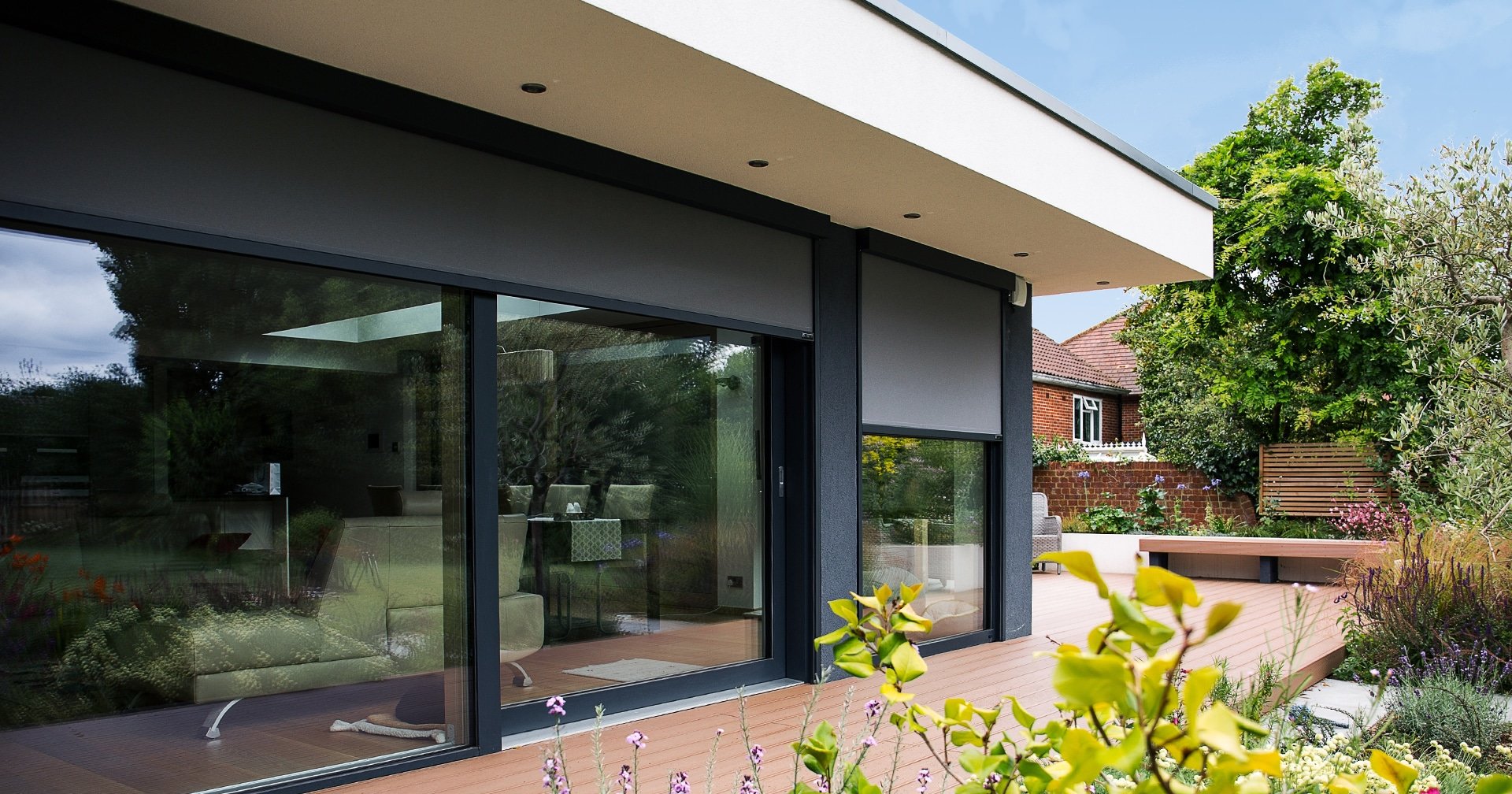 Image Source: Leamington Blinds
Sliding door and window exterior blinds are a fun alternative to traditional curtains. These chic outdoor blinds not only provide a wonderful aesthetic touch but also significantly improve thermal comfort inside your house.
Ideas to take note of:
External blinds are an excellent way to retain warm air during the winter and block out the sun during the summer, both of which are nuisances in homes with large windows and doors. 

They're great for replacing interior blinds on bifold or French windows, and they're one of the greenest blind alternatives available. 

These blinds will provide a matte finish that is both sophisticated and durable, regardless of the width of your sliding glass door. 

If you want to seem elegant and put-together, go with black blinds and sliding door edges. 
Glare-free sliding-door vertical blinds
Image Source: Amazon 
Patio or sliding glass doors benefit greatly from the use of vertical blinds. Softly diffusing the light helps keep the area at a suitable temperature and gives you some much-needed seclusion if your space is visible from outside.
Additional tips for you:
For others, the addition of this kind of window covering might make the space seem too much like an extension of an office. Vertical blinds are an obvious option for shielding the sun at the office due to the prevalence of big windows. 

Because of their adaptability and simplicity of installation, vertical blinds are a great option. They look great on big windows and French doors and are available in a wide range of materials and colors. 

These blinds provide a practical purpose while also adding a sophisticated flair to any room. The overall tone of the design may be established by choosing colors that represent luxury and elegance, even if they are more traditional in nature. 

The blinds should reach the floor regardless of the height of the sliding door or window. This is also a great way to cover up any wall damage, blemishes, or scuffs.
Therma Shade Pleated Sliding Door Blinds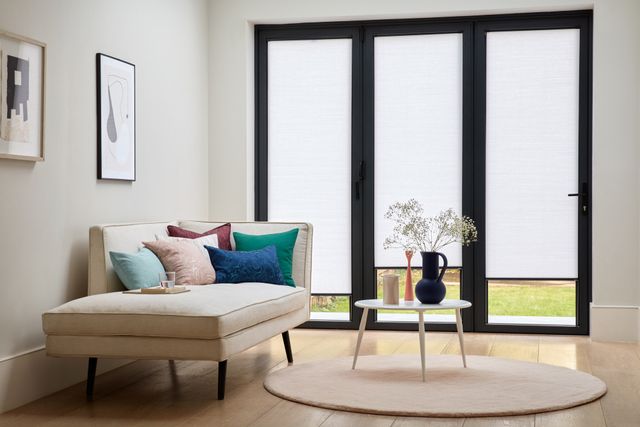 Image Source: Hillarys
Sliding glass doors and patios let in a lot of natural light, but they may also let in a lot of heat during the summer and a lot of cold air during the winter, therefore we suggest installing Therma Shade Pleated blinds.
Few ideas that you should know:
Therma Blinds are coated with a solar reflecting material that acts as a thermal blanket in colder months and a sunblock in warmer ones, making them useful year-round. 

You should make the blinds seem simple yet elegant. By their very nature, warm tones connote warmth. On the other hand, if the blinds' color were made overly striking, the effect would be ridiculous. White is a safe option since it can be paired with almost any other hue. 

Modify the size of the blinds to correspond with the size of the glass in the window or sliding door leading to the outside. The resultant enhancement to the windows would be nothing short of spectacular.
Frequently Asked Questions: FAQs
What kind of shades work best on a patio door?
When it comes to sliding glass doors or patio doors, vertical blinds are among the most functional options available. They let in just enough light to make the space seem warm and cozy, yet block out enough to keep prying eyes out. Due to their adaptability, vertical blinds work well in glass additions with full-size doors. 
Which works better on sliding glass doors, horizontal or vertical blinds? 
When it comes to covering sliding glass doors and enormous bay windows, vertical blinds are your best option. Any large opening, such as a window or door, will benefit greatly from their use. 
From the outside, which blinds would you recommend? 
Sheer Shades
The two types of sheer shades, the traditional and the dual, are both excellent for use in external design. The wide slats appear and feel like cloth, yet have the crisp lines of shutters. They combine the advantages of blinds and shades, making them an excellent option if you can't make up your mind. 
Which blinds are the most functional in everyday life? 
One of the most functional and eye-catching window treatments is a set of roller blinds in the living room. 
In terms of maintenance, which blinds do you recommend? 
Blinds made of aluminum, PVC, or imitation wood are some of the most maintenance-free options. If these materials become wet, they won't be ruined. It takes more time to clean these blinds than other types since each slat must be wiped down or vacuumed.
Final Words
The flexibility and adaptability of these blinds make them an excellent choice for your sliding doors. Having some wiggle space means you can still allow the dog in while keeping the blinds closed, making them ideal for patio doors. This motion enables you to utilize your blinds while keeping your doors operational. 
Nowadays, blinds may be customized with a wide variety of patterns, materials, textures, and colors. If you want to block out as much light as possible while maintaining your privacy, you can look into many options online. All you have to do now is choose your decision from among these many possibilities. 
But, read these pieces if you feel like you need to expand your horizons: 
How To Choose The Best Curtains For Your Sliding Glass Door
How To Measure Sliding Glass Doors
Written By: Trisha Mae Raymundo