Sliding doors are gorgeous additions to any house because of their space-saving functionality and contemporary aesthetic. Doors like this aren't only useful for separating rooms, they may also be used to conceal useful alcoves like pantries and laundry facilities. 
Sliding doors are a simple way to maintain the style of the rest of your home's interior; if you have a country-style interior, you can install massive barn doors, and if you like a more glamorous look, you may install mirror sliding doors. Doors made of transparent glass, particularly those designed in the form of a French window, are a beautiful addition to any home, whether its decor is ultra-contemporary or more traditional Provençal. 
Using sliding doors allows you to create a statement with patterns, colors, and textures that stand out. Read on to find some ideas for interior sliding doors.
Minimalistic Contemporary Sliding Doors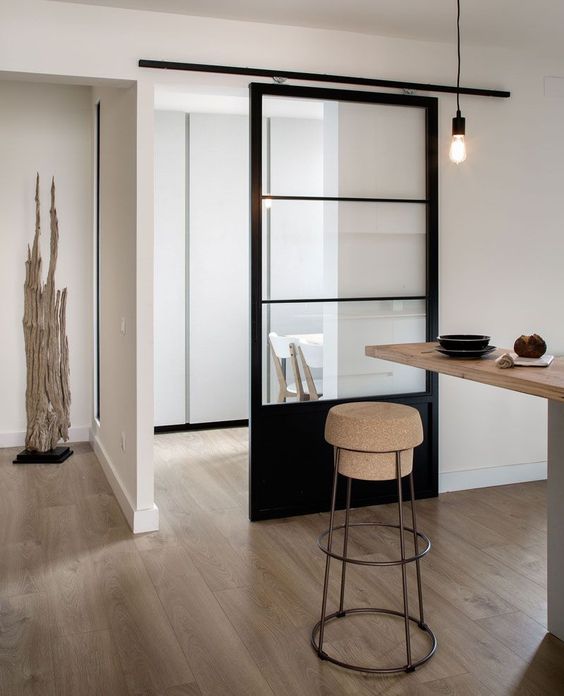 Image Source: Digs Digs
Experiment with a light and easy activity. As their adaptability is inarguable, this would open up new avenues of creative expression. Be mindful of the colors and overall aesthetic while you create this. 
Ideas that you should know:
Sliding doors are a must-have for any modern or minimalist home. The door might be made of plywood or wood and stained or painted a vivid color like red, yellow, blue, green, orange, black or any other. 

To make your wooden door seem more modern and to allow light to enter and exit, consider installing glass panels.

Make the walls and glass doors black and white. The secret to effortlessly chic simplicity lies in this. 

Even one door may do wonders for the accessibility of a room. On top of that, you need to be careful not to exaggerate your choices while deciding on a configuration or layout.
Image Source:  Thompson Garage Doors
You may choose from a wide variety of finishes, including both stained and painted finishes, as well as a wide range of sizes, including both double and single doors. Applying the concept of a barn sliding door to any room in your house, from a pantry to a study, is a fantastic idea. 
Things to consider: 
Barn doors, also known as rustic doors, are the most popular kind of sliding door because of the warm, welcoming vibe they exude and the contrast they provide to a room that doesn't already have a rustic aesthetic.

Add some black trimming to hint at a more modern aesthetic without detracting from the overall rustic aesthetic. 

Doors are the extension of a design, thus the flooring and ceiling around it should reflect that. 

The area might seem and feel larger with the addition of two sliding doors, which is both practical and a potential space-saver.
Image Source:  Houzz
When your schedule is already jam-packed, the last thing you need are interruptions. You need do nothing more than show up to work on time and stay there till you leave. If you want to be able to see what's going on outside while still working, a sliding door is what you need.
Consider these suggestions: 
Your black sliding door will project a carefree and modern air if you add some frames to it. The frames need to be extended to the side for a more finished appearance. 

As you run a professional business, I recommend having black doors installed. Black is associated with seriousness and minimalism, which are all qualities that describe your company. 

Don't forget the glass panels; the locked in, claustrophobic sensation of a solid sliding door might dampen your spirits. 

Ideally, we'd want everything there to appear like it belongs. Wooden flooring and white walls and ceilings are examples of adaptable materials.
Image Source: Housing
In certain cases, a little bit of pizazz in the loo is just what's needed. To achieve this, a sliding door should be installed, but care must be taken to ensure that it represents the pinnacle of elegance in its understated simplicity.
Suggestions you need: 
Sliding glass doors installed within the home are now all the rage. In terms of privacy, you may choose between transparent, tinted, and frosted glass. 

A glass sliding door with a ribbed texture on the glass is great for tiny rooms or bathrooms with a minimalist design since it let natural light in while maintaining seclusion. 

There is no need to surround your sliding door with frames or metal. The glass panels' neutral appearance means they may be used with a variety of different kinds of flooring and wall coverings.
Image Source: Magworks Pte Ltd.
Something has to be put up in your kitchen to divide the counter from the eating area. Your kitchen will immediately seem more practical and open. 
To maximize its potential uses, a white sliding door is recommended. To avoid blocking the space adjacent to the sliding door, make sure it just covers the door's simple design and edges. 

Glass panels in a sliding door is a classy addition to any room. 

Instead of installing a single large sliding door, you should install two average ones with an opening in between. This plan would enhance the usefulness and efficiency of your space. 

The flooring need to have a brilliant white sheen. Make use of marble or porcelain tiles. The area's aesthetic attractiveness would be enhanced by this. 

The walls and ceiling should be white to maintain a conventional and basic aesthetic.
Closed Sliding Doors in the Living Area 
Image Source: Styles At Life
When you need to add a sense of class to a room, a closed sliding door is the way to go. Furthermore, it's ideal for those who value privacy but yet want to see what's going on in the next room.
Ideas to ponder: 
Curves provide a touch of class and artistry to a design, but it's important to stay true to the chosen palette and materials. 

A glass and wood panel shows a fusion of modern and traditional style. Those homeowners who were having trouble settling on a single design concept would benefit greatly from this strategy. 

Your floor, which you should also create of wood for cohesion's sake, should be an ash brown color to provide depth. 

The walls should be a light grey, or at least a hue that's close to it, so everything seems uniform.
Interior Sliding Arch Doors 
Image Source: Shelterness
Arched doorways are a popular new trend in interior design, harking back to the Neoclassical period. As long as the door frame has an arch, this design may be used to conventional, sliding, pocket, and even more unusual door kinds.
Here's what you can do:
A minimalistic touch is always a plus, so don't forget to keep an eye out for some black metal to cover the bottom of your door. This is a certain way to add a touch of class. 

You should go with a wood floor, but paint it black to keep the look uniform. 

Adding white paint to the walls will provide a nice contrast. The wood should be kept, however.
Side-Hinged Chalkboard Doors 
Image Source: Decor Pad
DIY enthusiasts can't get enough of chalkboard doors, especially in a rustic or antique design. A kitchen with a blackboard sliding door has an instant dose of fun and whimsy.
Some options you should know:
Put a chalkboard in a stainless steel frame on the sliding door to keep it practical and to provide a space for expression instead of glass panels or mirrored ones. 

You may be as creative as you want with the chalk shade. Color is not required. The messier, the better!

A hardwood floor might provide a sense of warmth and tradition to your home. 

Furthermore, a white wall allows you to be more flexible and minimalist.
Art-Decorated Sliding Interior Doors
Image Source:  Pinterest
We think this is a fantastic concept. When put to use, the practical art creates a spectacular impression. In addition, you may be able to do this yourself, which would be a huge time- and cost-saver.
Tips for you:
If you consider yourself creative, a balanced abstract design with a variety of colors would be perfect for you. 

A figure-heavy design may be attempted on a sliding door, but only if you are confident in your abilities to execute such a plan. Doing so would provide sharper definition for the entrance. 

As a door without a frame has the feeling of a blank canvas, metals like stainless steel or aluminum should be installed above it. 

The walls should be white to symbolize how a spare aesthetic may serve as a frame for the painted and well crafted sliding door. 

The use of maple or ash wood for the flooring is recommended because it conveys a sense of ease and because its light hue goes well with the sliding door layout.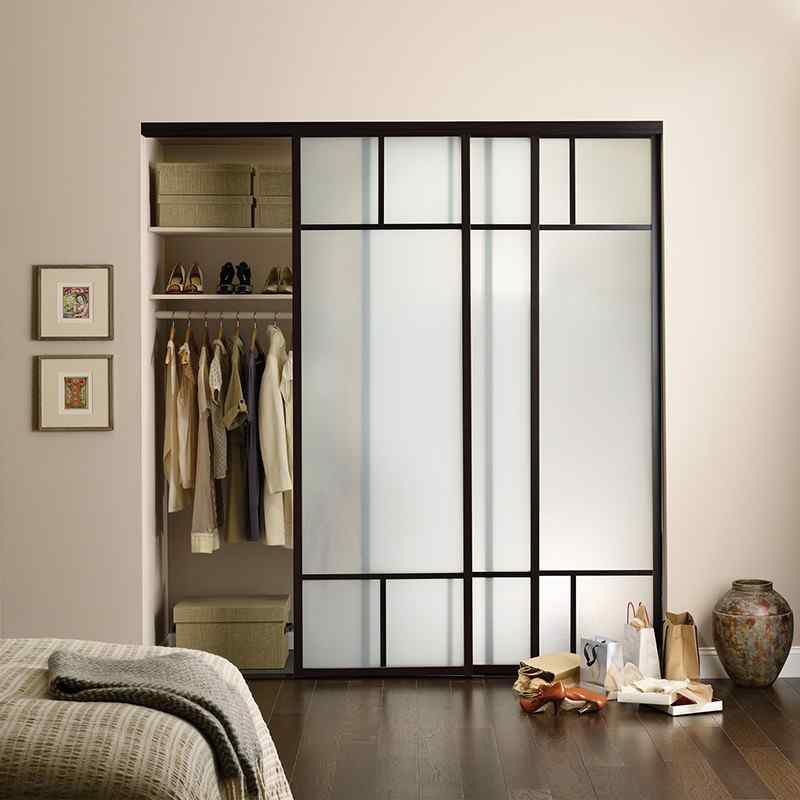 Image Source: The Sliding Door Company
Placing a mirror on the other side of the sliding door is a brilliant idea. It's not limited to closet doors and may be used to improve the aesthetics of any space.
Options for you:
The room have series of full-length mirror. In addition to giving the impression of increased square footage, this design element also doubles the quantity of ambient light in the bedroom via the process of reflection.

You may also see a separation between the mirror's upper and lower halves. If you're searching for a way to spice up the design, this is a must-have. 

Sliding doors on your closet make it easier to get to your things when you're in a rush. 

Make sure your floor is wood to match the pattern and provide a touch of rustic charm. 

If you want your mirror sliding doors to have a modern look, a black aluminum frame is a great choice. 

You may add something easy and adaptable by painting a wall a creamy white.
Door Tracks for Sliding Glass Interiors 
Image Source: Pinterest
Sliding doors' primary advantage is the amount of room they save. That's why you should consider using them in storage spaces like closets and pantries, as well as in compact living quarters. On the other hand, glass panels would undoubtedly convey sophistication.
Choices to think about:
Give the glass some depth and style by adding sculpted horizontal borders. 

When some discretion is needed in a given space, frosted glass partitions are an excellent choice. The addition of such glass panels would also improve the room's aesthetic quality. 

Choose a ceramic tile if you're looking for something easy and modern. Its shine will perfectly complement the glass panels in the sliding door you built. 

For a classic and elegant feel, white walls are a must. 

For the aforementioned add-on, install a stainless push and pull bar to do away with the difficulty of the sliding door's opening and closing. 

If you have a stainless steel bar above, you should also have a long, vertical, and easily visible knob to go with it.
Modern Sliding Doors with French Design 
Image Source: Foshan Hanse Industrial Co., Ltd.
The door frame of a French door is often much larger than that of a standard door. This door is ideal for those who want to keep a traditional aesthetic while still enjoying the view from the next room.
Choices you should think about:
Triple sliding doors, which are common in modern French doors, sliding doors, and bi-folds, provide a number of advantages for boosting home security. 

There should be more pink ones out; they work well as a sliding door color. In this sense, a splash of color might serve to draw attention. 

Porcelain tiles are a great choice for this space since their glossy finish complements the pink metal in the sliding door and the glass panels. 

Make sure the door has some kind of frame, even if it's little; this will give it the feel of a classic French door. 

If you want your sliding door to stand out, white walls are your best bet. You may avoid boredom by decorating it with portraits or inscriptions.
Vertically Aligned Sliding Doors 
Image Source: Minimal Goods
A Guillotine door, or industrial sliding door, is perfect for usage in low-temperature environments. This door exudes sophistication; you just cannot get enough of it.
Possible choices:
When painted gold, vertical sliding doors provide an instant impression of opulence. Not to worry, you won't feel like a commoner here, but rather like a member of the royal family. 

Double-check that the top of the sliding door is flush with the top of the opening. Inconsistencies like gaps would make the whole thing appear sloppy. 

Make sure the floor is also brown to match the door. Use a hardwood floor if you want to play it safe. 

Use mostly white hues. It's everything been done, from the walls to the ceilings to the furnishings. Your room's sophistication would be elevated with this addition. The best option for individuals who like a basic lifestyle.
Closet and Storage Sliding Doors 
Image Source: Closets By Liberty
Making use of sliding closet doors may help you organize your bedroom and give it a more polished look. You may make them stand out by matching their material to the rest of the room's aesthetic.
Optional tips to consider:
A white paint job on a standard sliding door is a certain way to add a touch of minimalism. This is ideal for folks who have little possessions yet value easy access to their closet. 

There is no need to spend a lot of money on a walk-in closet when you can have one built in with two sliding doors instead. In this manner, you may make full use of your own quarters. 

The flooring should be made of dark wood to provide a sense of antiquity and reliability. 

Painting the walls and ceiling white is a basic choice. Nonetheless, feel free to decorate the walls with portraits, paintings, and other artwork.
Pivot Interior Sliding Door 
Image Source: Archiproducts
A pivot-sliding door is one whose leaf spins around itself and slides open and closed with the use of a pin. Choose this door if you're in the market for a revolving door that's also easy to open.
Consider the following alternatives:
Try painting a section of wall a light grey for some contrast. This would make the space seem more three-dimensional and full. 

In high-traffic spaces like a library, office, or study, a pivot door is a must. 

You can't go wrong with a sleek and sophisticated black sliding pivot door. Including glass panels into the design is highly recommended as it helps the space seem even more tranquil. 

Sliding door frames should also be painted black for continuity. 

Large ceramic tiles may provide a touch of style and attractiveness to the flooring. Instead of complementing the wall texture, a matte one would stand out.
Frequently Asked Questions: FAQs
When opening a door inside, is a bottom track necessary? 
The option of a bottom track is available but not required. The door is held in place better, increasing safety. Because of this, the bottom track of an outside door must be solid. There is also a higher track, which is solid but not quite as safe as the lower one. 
Which door style is ideal for a home's interior? 
When it comes to soundproofing the inside of your home, solid wood doors are your best bet. They are available in a number of different types of wood so that you can choose one that complements your existing furniture. Neither solid core nor hollow core fiberglass doors can match the weight of a traditional wooden door. 
Are sliding doors and regular doors each better than the other? 
Sliding doors, which would be an option, would improve mobility. Sliding glass doors let more natural light and fresh air into your home. It can also save you from floor space. Sliding doors are a great option for compact living rooms. 
When used indoors, are sliding interior doors safe? 
Sliding doors are not merely aesthetically contemporary, but also functionally modern. As compared to standard doors, sliding doors have significantly more robust locks, making it possible to keep distinct rooms safe. 
How much would you estimate a sliding door for an internal space will set you back? 
Sliding doors may cost anywhere from $1,053 to $3,465 (or more! ), with the average being $2,258 (this includes the cost of installation). Sliding door prices may vary from $1,053 to $3,465, with the typical homeowner spending about $2,258.
Final Words 
Sliding doors are a great alternative to conventional doorways since they are unobtrusive, easy to maintain, and can complement a wide range of interior design schemes. Sliding doors in today's homes and offices free up floor space for other uses or provide for more seclusion when required. 
Interior sliding doors are available in a wide variety of styles and materials to accommodate any preference or décor. You may choose a sliding door style that suits your needs, whether it's as a stunning room divider or a practical storage option. With several models available, finding the ideal sliding door for your house is a breeze. 
Naturally, after learning more about the topic, we want to investigate further design options. To that end, we're providing the following articles.
11 Kitchen Sliding Doors Ideas that Add Beauty to your Kitchen
Written By: Trisha Mae Raymundo