The most effective patio door designs not only serve as a point of entry and exit but also have a substantial impact on one of the most fundamental aspects of a house's aesthetic. The indoor-outdoor flow is just as crucial in the winter as it is in the summer, so planning ahead is essential. 
Take a look at these ideas for patio doors with incredible designs, which range from expansive aluminum sliding doors to classic wood French units, to spark your imagination and bring you one step closer to realizing your ideal house. 
Adorn Your House with a Touch of Class 
Image Source: Select Blinds
It's easy to get carried away when researching patio door designs with visions of expansive walls of aluminum windows or Crittall-style panes of glass. But, before settling on a certain kind or size, remember to take your home's architectural style into account. 
Some things to keep in mind: 
If you're looking for a window treatment that won't block the sun, vertical blinds are a great choice. If you are concerned about your personal safety and privacy, you will like the fact that you may use it at any time of day or night. 

White might become old, but in this instance, it has shown its adaptability and elegance, so stick with all-white furnishings. 

Wooden walls evoke a soothing, rustic, or country atmosphere, so go for it. 

If you want the area just outside your sliding door to seem like an extension of your home, try leveling it out or painting it a consistent color.
Triple sliding doors with white borders and glass panes provide an elegant appearance.
Embrace Vibrant Colors with Today's Patio Doors 
Image Source: Country Living Magazine
These days, patio door buyers have more color choices than just anthracite and white. Frames made of aluminum, wood, or uPVC may be stained or painted whatever color you choose, and some manufacturers even provide options for dual-color frames. 
Few things to remember: 
Just painting the sliding door a vibrant hue will make it the focal point of the room. That will unquestionably belong to a red one. 

White walls, floors, and ceilings will prevent anything from blocking your sliding door. You need not worry; white is versatile enough to complement practically any hue. 

There should be some style and dimension added by using little windows split in half. 

Invest in porcelain tiles for a more polished, clean, and sophisticated look for the floor. Create a white version to match the wall color.
Patio Door Size Does Not Always Matter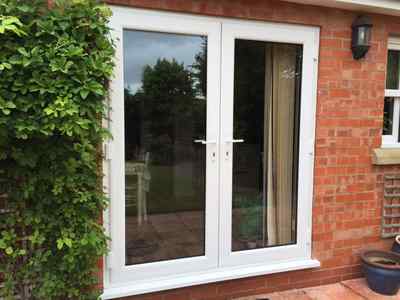 Image Source: Avonbridge Conservatories and Windows Limited
Since sliding doors have fewer hinges and sightlines than french or bifold doors, your view of the garden will be unobstructed even when the doors are closed. We say go for it if you believe a tiny one would be the showpiece of your patio.
Get this design by: 
We recommend a sturdy white metal frame for the sliding doors. In this manner, you may convey a sense of conservatism and simplicity. Have a space that can be used as an extra doorway for added convenience. 

Raise the threshold for a more contemporary and ethereal look. 

If you want your door to have the look of a more modern structure, glass panels are a terrific option. 

The orange-painted bricks would be a great choice for the walls, giving the room an urban feel. 

If you're going to use orange ceramic tiles on the walls, you may as well continue the color scheme on the floor.
Standard Design for a Patio Door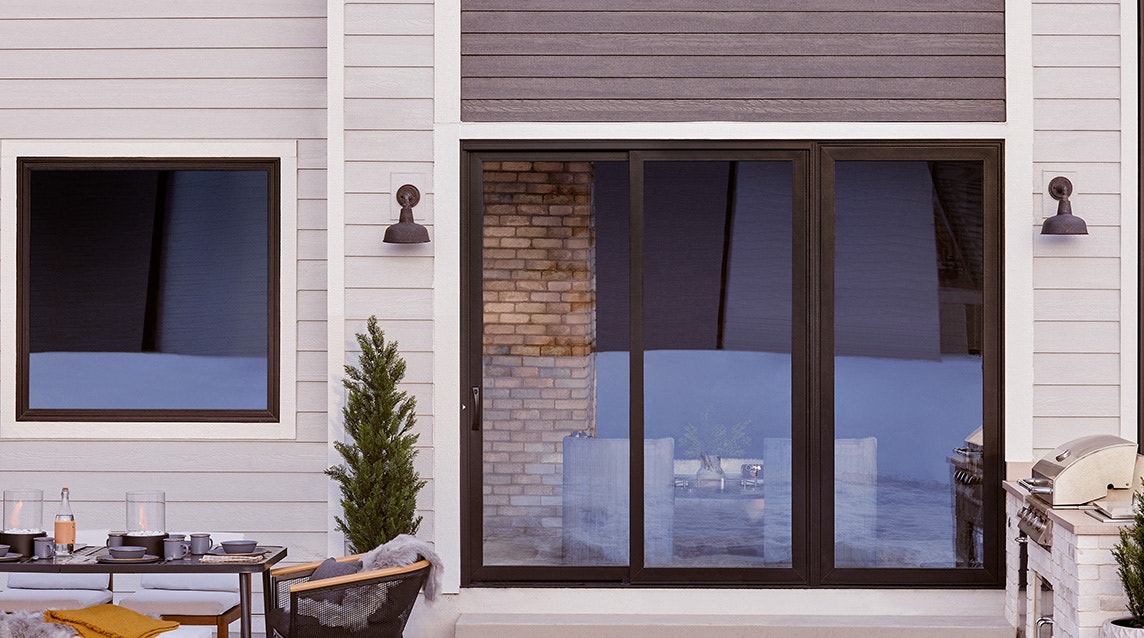 Image Source: Pella Windows
A modern or opulent patio door is a feature that many of us would want to have. Whilst some people may still be dreaming of such a thing, if you want to keep things straightforward and conventional, a regular patio door is the way to go.
Achieve this layout by:
If you believe you can make a good-looking sliding door with black metal frames, go for it. 

It is possible to provide the appearance that the space beyond a sliding door is sufficiently large by using three sliding doors or a glass panel divided into three sections. 

In order to have something that exudes a sense of renewal, glass panels should be installed. 

Raise your sliding doors and paint a white line directly beneath them to make them more traditional while still being functional. 

It's alright to utilize wood for the walls if you're going for a country feel, but I'd recommend painting them white to match the cement flooring.
Put an emphasis on the Industrial look 
Image Source: Vibrant Doors
Often referred to as Crittall doors, Belgians are experiencing a major renaissance. Patio doors like these, which were once rare outside of restored Victorian homes, have recently become popular due to a craze for modern, industrial window designs.
Some tips for you:
Using frames, you may show off simple yet eye-catching layouts. Hence, if you think you can get away with charging a little bit more for your sliding door, go ahead and do it. 

The color black symbolizes the cutting-edge contemporary style. It may be used in a variety of contexts. If you feel that your house might benefit from some contemporary touches, consider a black aluminum sliding door frame. 

Use bricks or moss to create a wall that is both urban and natural in appearance. If your patio or garden is near the sliding door, try to make it seem as natural as possible. Such an arrangement would provide a seamless transition between the inside and outside. 

Stainless steel knobs are a great choice since they will never go out of style. 

Clear glass panels that let in natural light and provide for a view of the outdoors are ideal. 

Position some attractive plant containers near the glass doors for a touch of style and a breath of fresh air.

Frame your favorite view with patio doors
Image Source: Home Building 
The beautiful view may be captured via patio doors even when inclement weather forces you within. The beauty that awaits you is irresistible, so open the door and let it in.
A few pointers to remember:
Consider replacing solid-painted walls with a bank of extra-wide sliding glass doors. If you can do this while taking in the scenery, you'll find that it's just what you need to unwind. 

Black metal frames are good since they are adaptable, show current style, and are elegant to look at. 

It would look great with the black metal trim if the wall sections were painted white. Unlike other color schemes, black and white will always be in vogue. 

Make sure the bottom of the sliding door is flush with the ground so that the area is well-defined and seems spacious.
Install Sliding Patio Doors
Image Source: Marlin Windows
Sliding doors provide easy access to the outside and let in natural light and stunning views throughout the day. Sliding doors are an excellent way to add style and security to your house, and we believe you should get some.
Few tips to know:
If you'd like some fresh air and natural light while yet maintaining your privacy, a large pocket sliding door that can be screened is a great option. 

Although black is a popular color, painting the door's frame and stiles that show whether the door is open or closed in this manner may provide the impression of confidence and adaptability. 

Put the sliding doors flush with the ground for a more finished appearance in which no unsightly spots or gaps are visible. 

Your sliding door may benefit greatly from a knob or a handle. In order to blend in with your black sliding door, you should paint this frame that holds the door shut as well. 

Use a low-maintenance material, such as ceramic tiles, for the floor. 

Walls should be painted a creamy white or dirty white to create a uniform aesthetic with the tiling.
The Stunning Style of Bifolds
Image Source: Residential Products Online
On a hot summer day, is there anything better than to throw open the folding doors and let the outside in? We don't think so, and the homeowners who value style agree.
Here are some suggestions:
Bifold sliding doors are one of the most convenient options. Not only does it fulfill its function effectively, but it also looks great.
Doors that can swing in either direction would provide a stunning finishing touch to the decor
Ceramic tiles are a necessity if you want to reduce the visual clutter in the room
Choose a wooden frame rather than the typical black or white metal. This location is ideal for showcasing rustic charm.
The walls might benefit from being painted a milky white sand hue because of their versatility and nostalgic appeal. Adding a sand texture boosts the overall aesthetic.
Sleek and Clean Pocket Doors 
Image Source: Aspect Windows
Whether you're planning a home addition or building from the ground up, you may maximize the amount of light and air that flows into your area by including a pocket in the wall for sliding doors to retract into.
Things you should do:
For such garages and for those who want a panoramic view of their patio, a set of wide sliding doors is the best option. 

Part of the wall is much thinner and more like a post in appearance. Keep in mind that the walls and posts are both made of wood, so this house is perfect for those seeking a cottage aesthetic. 

Large ceramic tiles provide a neat and tidy appearance and work well for tiling. 

Sliding glass doors with glass panels are a great way to blend modern style with more traditional decor.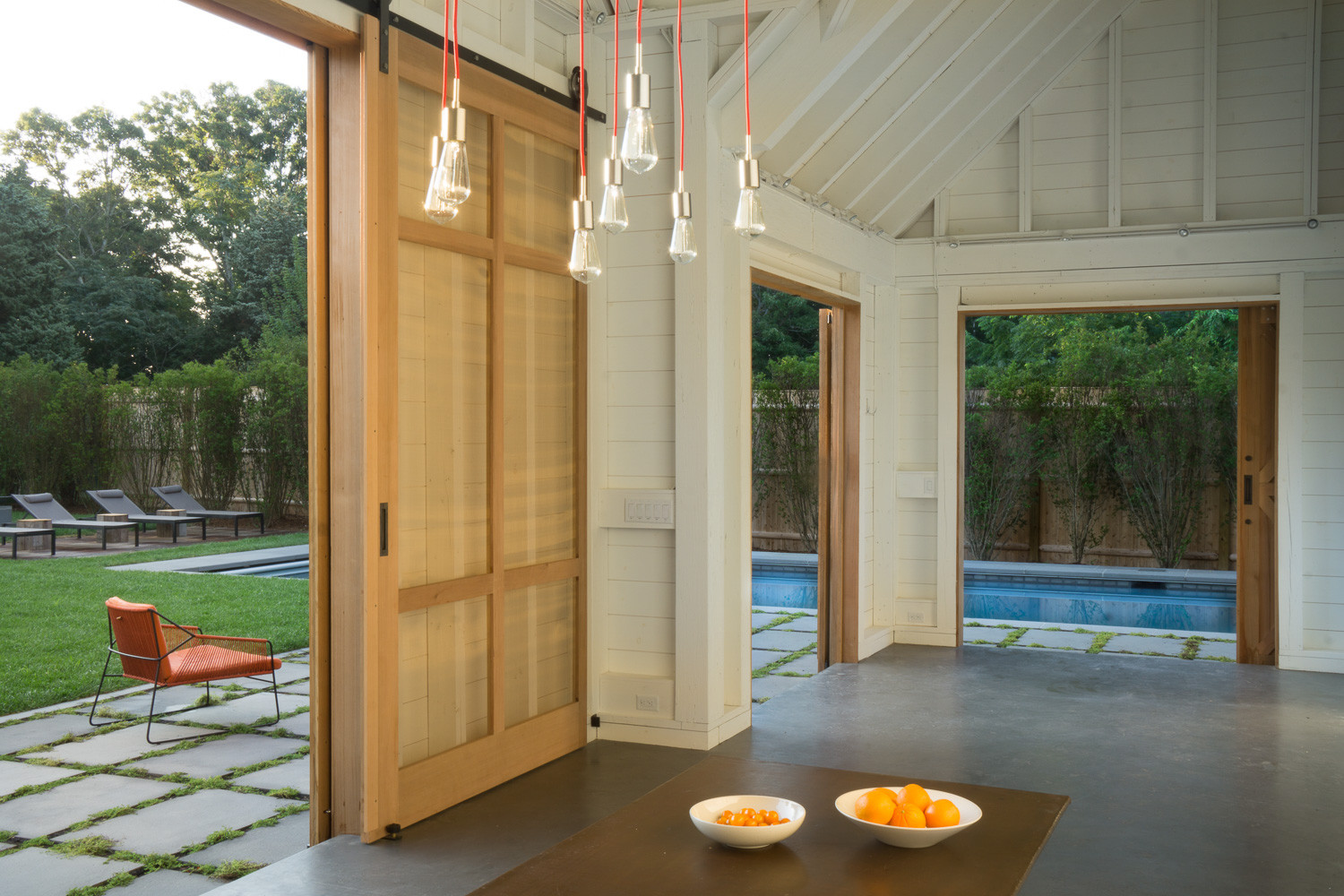 Image Source: Houzz
It's time to let loose your inner rustic charm by installing a door that will accomplish just that. If you're someone who likes to keep their personal life private, this thick door is for you.
Ideas to mull over: 
Doors that look like barns are a classic symbol of the farmhouse aesthetic. If you have a fixation with wood, you may bring it into your house in the shape of sliding doors and live out your wildest woodsy fantasies. 

If convenience and simplicity are your priorities, a single sliding door will do the trick. 

Add some visual interest by painting the pole over the entrance black. 

Keep the flooring brown but cement them for a striking contrast. 

Maintain the walls woodsy but make them white so you may use the space whichever you choose. In this manner, you may display artwork, pictures, and even a bull's skull with a rural theme. 

Invest in double-sliding doors with a wall in between them for further safety and privacy. 
 Steel Pocket Sliding Doors 
Image Source: Houzz
Add a touch of class and sophistication to your house with sliding pocket doors. The perfect choice of paint and furnishings may make your house the envy of the neighborhood.
Be guided by these options:
If aesthetics are a priority, a series of sliding doors is a good choice. 

Instead of going with the standard option of a glass paneled door, you could concentrate on adding some horizontal and vertical patterns to the black metal borders. 

It's important to choose wood for the flooring. This is a great method to work your magic by combining modern and country aesthetics. 

When paired with black metal trim, a dirty or cream-white wall color scheme looks great.
An Eye-Appealing Pivot Door

Image Source: Western Window Systems
The most obvious advantage of a pivot door is the fact that it appears so elegant and high priced. Take note that a pivot door is a great addition to a home with a contemporary design.
Ideas that you should bear in mind:
One of the best ways to show how simple something can be while yet being stylish is using pivot doors. Also, these types of doors are fun to enter and exit. 

Long knobs provide an air of refinement to any interior. 

For a more daring and up-to-date look, paint the door's edges black and add glass panels. 

Tiling the floor is a good idea. Tiles made of ceramic should be used, and a dirty white or cream color scheme would be a good choice. 

Walls should be a consistent cream or dingy white for the same reason. A large and more aesthetically beautiful space results from maintaining uniformity.
Frequently Asked Questions: FAQs
Which patio door is the best option? 
Patio doors made of vinyl are more popular. They last a long time, don't rust, and are inexpensive. As swinging doors need clearance on either the inside or outside to open, sliding doors are often utilized in small spaces. 
How much would it cost to cover a patio? 
A cloth patio cover is a fast and easy alternative that won't break the bank. Fabric may be used to construct a canopy or shade sail, which can be used to cover your patio and keep it cool and protected from the elements. Garden centers offer prefabricated fabric umbrellas. 
What's more secure: a French door or a sliding door? 
Better security, usability, and the potential to save on floor space are all advantages of sliding doors. Sliding glass doors, which employ a glass pack and an insulated frame, are more energy efficient than conventional French doors. French doors provide more airflow, but they often come with drawbacks in terms of design, functionality, and efficiency. 
What is the biggest disadvantage of a sliding door?
With all their convenience, sliding doors require frequent cleaning. Because to the huge surface area of glass, filth, oil, and grime may easily accumulate, especially in households with pets or children. 
When it comes to patio doors, how long should you expect them to last? 
Sliding patio doors have a lifespan of roughly 30 years when they are lightly cleaned on a regular basis but otherwise ignored. The typical mechanism for sliding glass doors consists of a track and roller wheels that allow the door to slide back and forth along the track. If dirt and grime get stuck in the track, opening and closing will be more of a chore.
Final Words 
Designing with patio doors in mind allows more natural light into a space and strengthens the relationship between the inside and outside. Doors, whether they be French, sliding, folding, or any other kind, may be an architectural focal point and a design element all on their own. 
To better your house and put your patio dreams into action, you should think about including them in your plans when you remodel, build an extension, or are ready to replace outdated or unsuitable door designs.
Moreover, if you think you are up for the challenge of exploring more patio door designs, feel free to check these out.