The installation of sliding doors is a great way to make better use of the available floor area in your house. Sliding doors save floor space since they may be installed in the wall or hung over an existing opening. Without the need for heavy, swinging doors, you may improve the flow of your house while maintaining privacy. Sliding doors allow you to easily create both open floor plans and more private areas. 
You may get sliding doors in a wide variety of styles and materials, or even fashion your own out of an old rustic door. We've compiled eleven kitchen sliding doors ideas in the hopes that one of them may spark an idea or two.
Flat-Panel Kitchen Cabinets with a Black Sliding Door
Image Source: La Urbana 
The black color is usually a good option if you're going for a sleek, modern style with a macho edge. Black, being a neutral hue, may also provide a sophisticated appearance.
Things you should remember: 
The flat-panel kitchen cabinetry has a green base with black doors. Contradictions like these are necessary for a modern style. 

The three overlapping sliding doors provide an interesting visual effect. To keep things looking clean, no hardware has been included. Instead of a separate track put on top, the sliding mechanism is integrated within the cabinet itself. 

No button or lever can be found, either. As an alternative, each door's bottom has two tiny circular cutouts. These are the door handles for opening and closing the doors. 

The countertops and doors are also black, so they match very well. 

There are no sliding doors on the base cabinets, but there are black doors on each compartment. This allows for uniformity and a streamlined appearance.
Glazed Sliding Kitchen Cabinet Door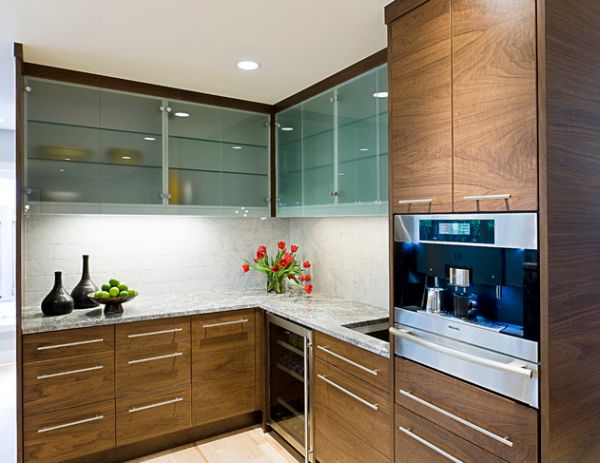 Image Source: Decoist
The combination of contemporary and rustic elements is elegant. In addition, when you combine them, you increase your flexibility as a homeowner. There's no need to wait or second-guess yourself; the power of the designer is in your hands.
Options you could consider: 
Given its classic appeal, glass is one of the chic components that may be employed to create a modern aesthetic. 

When set off by transparent glass, the medium wood tone appears very precious. 

No garnish door hardware, such as knobs or pulls, is employed to achieve this modern effect. Each door, however, has a single, little metal knob in the shape of a sphere placed low on the door's surface. The spherical knobs hardly stand out, giving the glass a sleek appearance. 

A white countertop is another option for a clean, contemporary style. Don't forget to spatter on some extra paint patterns for flair! 

It would also be nice to have some vases and artificial flowers to decorate with. This would inject some vitality into the setting.
Metal Slide-Out Door for Reclaimed-Wood Kitchen Cabinets 
Image Source: La Urbana
The cabinet fronts in this kitchen are a representation of the art deco design style. These folding doors' timber was salvaged from an old building. If you're looking to inject some modern rustic charm, this is the solution.
Some tips for you: 
The stained wood gives off an industrial vibe, particularly when paired with the sleek black of the hardware. 

Barn doors are a fantastic match for the sleek black track.

Metal pulls serve as hardware for these sliding doors, completing their sleek design. It requires simply a single, effortless sideways move to reach whatever you've stashed away in the cabinets. 

Black cabinetry complements the rustic look of the reclaimed wood doors. After all, the combination of wood tones and black is timeless and universally flattering.
Sliding Cabinet Door for a Variety Of Kitchen Items and Materials
Image Source: Nordiska Kök
This kitchen design is the epitome of a tranquil and beautiful synthesis of contemporary and traditional elements. It seems like a modernized take on the kitchen that so many people adored.
Suggestions to keep in mind: 
The final decision was a frame kitchen with simple doors and traditional brass pulls. 

The kitchen walls are a soothing beige that complements any of the room's furnishings. 

The walls are a soft off-white, and the floor is sanded and oiled wood parquet in a walnut stain. Simplicity and adaptability are shown here. 

Appliances like the stove and sink are tucked into a series of upper and lower cupboards along one wall. This makes the kitchen more presentable and functional. 

These top cabinets are a contemporary take on the traditional display case, with sliding doors with lined glass. 

In the base, you'll discover cabinets with pull-out drawers and doors that are outfitted with brass knobs. For a timeless and contemporary feel in the kitchen, simple frame doors were chosen.
Free Standing Wall Cabinet with a Sliding Door
Image Source: La Urbana 
Kitchen storage solutions like floating cabinets often surprise people because of how well they make people's lives convenient and stylish. Sliding it around will make it much more enjoyable to use.
Here are some options:
These doors don't have knobs or pull—instead, they have finger holes on the top and bottom that we may use to unlock them. Adding this detail sets the cabinet apart from others. 

There's a blend of old-fashioned and cutting-edge styles. White oak, given a light finish, is used to make the sliding doors. This cabinet is set up on a white wall and seems to float. 

In case the owner wishes to break up the monotony of the white wall and make better use of space in the kitchen, there is a little shelf underneath the main shelf that may be used to do either. 

A complementary open shelf sits on the wall opposite the floating cabinet, creating a balanced and practical setup for storing and displaying kitchenware.
An Industrial Kitchen with a Black and White Sliding Door
Image Source: Pinterest
Although some may see black and white as dull, many who have it in their homes say it provides a necessary sense of balance as well as a chic, modern vibe. Incorporate these colors into your kitchen to understand what we are talking about. 
Remember these tips: 
The glossy surface and the angular patterns of a marble wall would provide an eye-catching focal point and an air of refined elegance. 

Create a classic feel with French-style sliding cabinet doors. Black frames are more striking than other colors. 

White countertops will make the space seem more orderly and professional. If you need a place to stash a lot of kitchen tools and supplies, look for models with many drawers. 

Displaying vases and decorative kitchenware over the counter adds visual interest.
 Closed Kitchen Sliding Doors
Image Source: Houzz
Get the level of seclusion you want in the simplest, most aesthetically pleasing method possible. Including sliding doors in the kitchen will allow you to accomplish just that. Putting in the thick glass finishes everything off nicely.
Suggestions to think about:
Create a sanctuary that blends rustic and modern elements instead of putting in those cabinet drawers. The doors should be made to slide open and closed and should be made of many panes of glass. 

One of the best ways to update the look of your kitchen while making it seem bigger and more useful is to install wall cabinets along one wall. Keep in mind that white paint and wood are standard materials. 

Give it all of your attention while designing the sink and counter. Gloss up the sink top, and go with natural wood for the lower cabinets. In keeping with the concept, this is a great idea as well. 

Transparent hanging lights might be used to illuminate the space while yet maintaining an attractive style.
The Kitchen and the Fascinating Scenery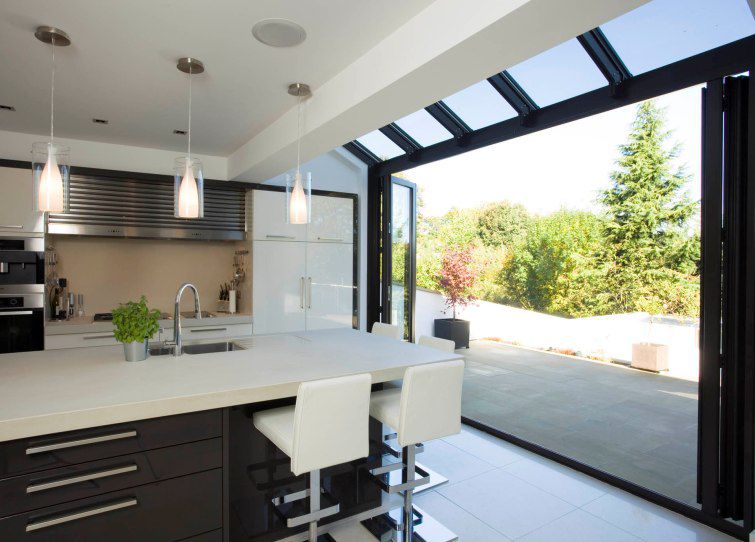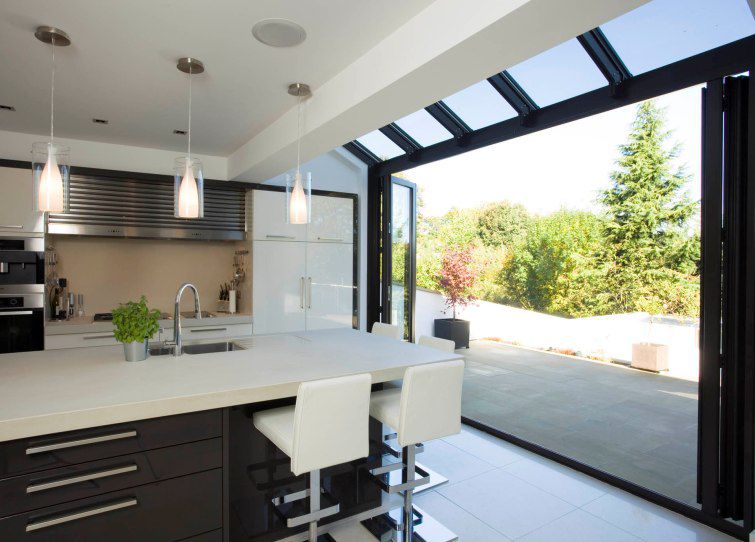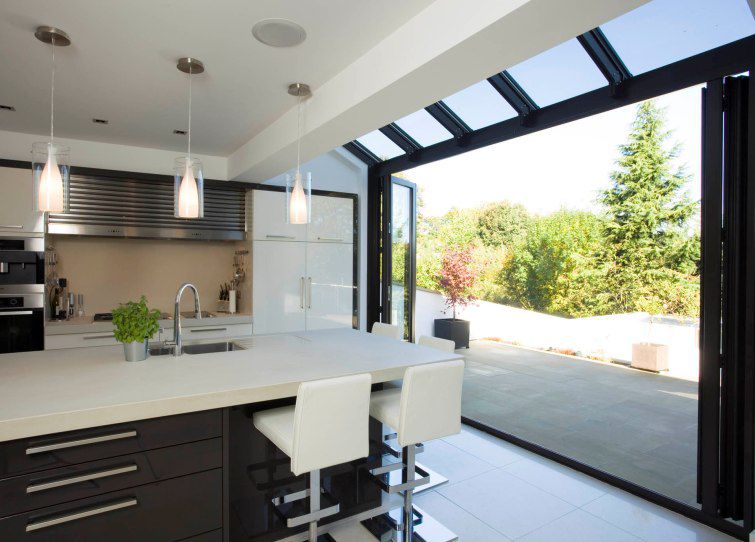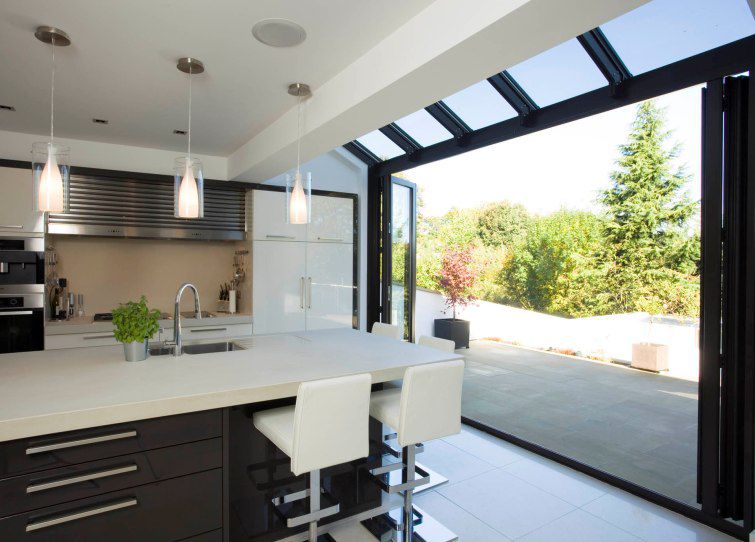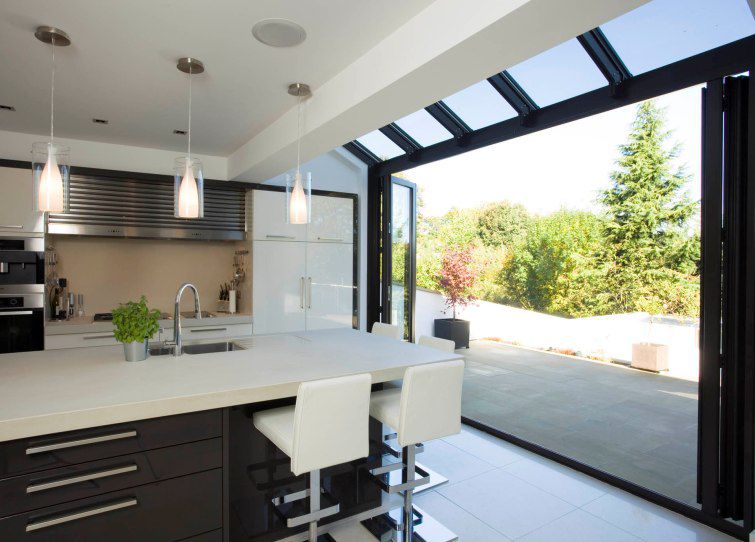 Image Source: Archi Expo
It's hard to imagine a more soothing environment than a kitchen that looks out into a garden full of beautiful flowers and foliage. With the correct how-to manual and pieces of furniture, you may have it right now.
Consider these suggestions:
Get a glass sliding door so that even when it's shut, you can still enjoy the view. Spread it out as much as you can so that it satisfies our eyes. 

A white bar stool adds a touch of class to the space and makes it easier for visitors to dine at the counters. This would make the area more interesting by allowing them easy access to the counters. 

You may also put out some exhibits, like plants, dishes, or figurines, to give the room a livelier and more inviting vibe. 

Considering that the stool is white, it is only fitting that the tabletop also is white. 

Black and white are the only acceptable colors for the overall scheme since they are symbolic of minimalism in the modern period.
Stylish Kitchen Sliding Door in Matte Finish
Image Source: Diva's Interior Design
This matte sliding door is an excellent option for households with limited kitchen space. These sliding doors are also very low-maintenance. Because of how easily they can be cleaned with water, dirt won't accumulate in the cracks.
Ideas to mull over:
Although black and white are your dominant colors, you may add elegance and whimsy by installing a marble finish in one area. 

If you want quick and simple access to everything you need in the kitchen, ditch the drawers and replace them with sliding-door compartments. 

Including a spot for your oven will make the area even more multipurpose. You may draw more attention to it by making it white, but if you want everything to seem uniform, go with black.

Having some kind of built-in lighting above the sink and countertop may provide visual contrast and accent certain places. Do this so they can become cozy and warm.
Reclaimed-wood cabinetry with sliding and rolling doors
Image Source: Wine Enthusiast
This beautiful armoire has a rustic elegance that will look great in your house and provides plenty space for your wine collection. It has two cabinets with space for 96 bottles of wine, plus barware, glasses, and more. Of course, this is perfect for a low-key get-together with pals.
Few tips made just for you:
Bottles, glasses, spirits, and collectibles may all find a home in this stylishly functional wine rack made from reclaimed wood. The atmosphere here is really reminiscent of a cozy home. 

If you want your kitchen to seem busy and full, installing an adjustable shelf for and a hanging stemware rack are great ways to do it. 

Make sure it's a hue that may easily be paired with other decorative elements, including wall hangings. This would make landscaping less of a hassle. 

For optimal kitchen efficiency, keep fridge-like storage units next to the fridge. 

Black edging would add to the rustic appeal and go well with the wine's red tones.
Sophisticated Designer Glass Sliding Doors
Image Source: Houzz
If you're looking to give your kitchen a facelift, you won't find a better sliding door than this one. Invite your friends over to your food haven and make a good first impression on them as they enter your kitchen. 
A few tips to ponder:
Choose bluish-white glass panels with vine-like motifs for a door that is both frigid and elegant. People who visit your site would have a favorable opinion if they saw this. 

Use a stainless steel handle to complement the sleek, modern look of the sliding door. 

Just leave the sliding doors be, no need to add some signs or playful designs.   Simply having the design in place is sufficient. 

If you want to create a contrast in the environment, go for some country modern vibes with wood flooring and minimalist colored furniture pieces. Still, white, grey, and blue pieces might look great if you're going for a more icy vibe.
Frequently Asked Questions: FAQs
Is it okay to put a sliding door in the kitchen? 
Sliding doors are becoming popular for use in rooms that connect to outside spaces like patios and backyards. They're also often used for closet and kitchen cabinet entrances. 
What kind of door would you recommend for a kitchen? 
The ventilation provided by louvered doors makes them a great choice for kitchen cabinets. The vertical slats on a contemporary cabinet door perform the same function. 
How can one improve the aesthetics of a sliding door? 
Add plantation shutters or panel tracks to your sliding glass door for a stylish and functional update. Both choices are more appealing to the eye and more practical than the standard vinyl blind and will rapidly pay for themselves via an increase in your home's resale value. Sliding glass doors may be easily covered with Sunburst Shutters.
Would you say that sliding doors are fragile? 
Tempered glass, which is what most sliding glass doors are comprised of, is quite breakable. The door might be broken by a huge item being thrown at it or by a strong object being slammed against it. When tempered glass is broken, it shatters into little, harmless shards. 
When it comes to kitchens, which door stands the test of time? 
Front entryways covered with porcelain 
The face panel of this material is resistant to heat and scratches. It's also a breeze to wipe off these doors after a cleaning.
Final Words
Those examples represent the cutting-edge Sliding Glass Door design. Because of their reasonable price, these doors are quickly becoming a top choice for both decorators and homeowners. 
In addition to their practical value, the aesthetic value and sophistication they provide to a home are unrivaled. Some upkeep is required, but other than that, these entrances are perfect. These entrances have gone a long way with frequent glass washing and wiping. 
Written By: Trisha Mae Raymundo