As the temperature constantly changes, we want to spend more time outside, but an old, rusted patio door may rapidly dampen the mood. If you want to update your patio, you should think about the doors that would appear best in your new design. 
A patio door, like a window, may be made from wood, vinyl, aluminum, fiberglass, and even steel. Composite and fiberglass doors are praised for their sturdiness, while aluminum and vinyl doors are favored for their affordability and adaptability. Steel doors are sleek and contemporary, while wooden doors are warm and classic. You may opt for the conventional French door design or switch things up with a sliding or accordion version. 
There are a lot of moving parts, so to help you get started, we've compiled a few outdoor sliding door ideas.  Whether you want a whole new door installed or are just trying to make the most of the one you have, you'll find some helpful suggestions below. 
Image Source: Renewal by Andersen Window Replacement
Consider the inside and external design of your house when planning a patio door makeover. Although a minimalist grille design is ideal for a contemporary house, a more ornate grille pattern is more at home in a more classical setting.
Suggestions to consider:
Your door may surely benefit from a mix of parallel, grille, and blind styles. This would bring out the creative side of your door. Make it white so that it will sparkle in the sunshine when it finally arrives. 

In order to get the classic appearance, knobs should be two, and space should be left between sliding doors. 

Don't forget to use the blinds as a screen for an additional layer of design, privacy, and defense. 

Add some additional style by placing potted plants in the room and painting the walls in overlapping patterns. 
Incorporate Wood for Coziness
Image Source: Pinterest 
A gorgeous set of wood french doors is the epitome of timeless elegance. French doors are a classic choice for homes with a more conventional or transitional exterior design style. But they make a home seem more inviting and comfortable through having some shade. 
Some ideas to mull over:
Wood doors are more costly than aluminum black doors but they provide a level of coziness and comfort to a room that can't be achieved with other composite or painted metal treatments. 

To fully express your originality, try adding some contrast with light and dark areas and decorating it with irregular shapes. To make the designs stand out, choose colors that offer a stark contrast to the wall color. 

A sconce-like lantern with soft lighting would be perfect for creating an intimate atmosphere. 

Wood should be stacked on the walls if you're going for uniformity. Adding a turquoise or grey hue will give it that something more it needs.
Modify with Steel and Glass
Image Source: Pinterest 
If you want plenty of glass and a few muntins, steel and glass windows and doors are a great choice. While these systems are state-of-the-art, they nevertheless have a rustic appeal that is at home in more conventional interiors.
Few ideas made for you: 
If you're looking to add some flair to the standard black and clear aesthetic, steel and glass are a great way to do it. 

Glazing panels might benefit from a parallel design to increase their visual attractiveness. Including too many grills in the design would be excessive. 

For a homey, country feel, install at least three pendant lights. Light from these fixtures should be on the warmer side to properly set the atmosphere. 

Make sure the area the lights will be touching is likewise brown as it adds to the area color that affects the mood of the guests. In this case, a brown ceramic floor or wood floor would work well. 
Image Source: Explore Windows and Doors I Pella Windows & Doors
Use color confidently, even in more staid environments. While a bright yellow or red door isoften associated with mid-century modern architecture, it need not be limited to that style.
Things to consider: 
If you want something that would truly stand out in design and color, pick something powerful like red and incorporate it on the edges. Make sure that it is thick.

To attain balance and not hurt the eyes of the people, you might want to put some neutral tones such as grey, white and brown. 

Have the door elevated as it will highlight the entire design and would also make the area more accessible and functional as the door ages. 
Image Source: Cover Glass USA
Accordion doors, also known as bifold doors, are a great choice if you want a contemporary appearance that makes the most of indoor or outdoor life. Once opened, these panels provide a smooth transition from your inside living room or kitchen to your outside patio.
Points to think about:
Use black bifold sliding doors for a daring and up-to-date take on the design. 

To improve the visual value, install a screen made of glass. Including tints would be a bad idea since they would detract from the beauty of your patio or garden. 

Although it's true that black complements any color scheme, traditional looks never go out of style, so stock up on white paint for the floors, walls, and ceiling. 

If you want your patio to seem cohesive, choose flooring for it that can be used both inside and out.

Sliding Door With Sidelites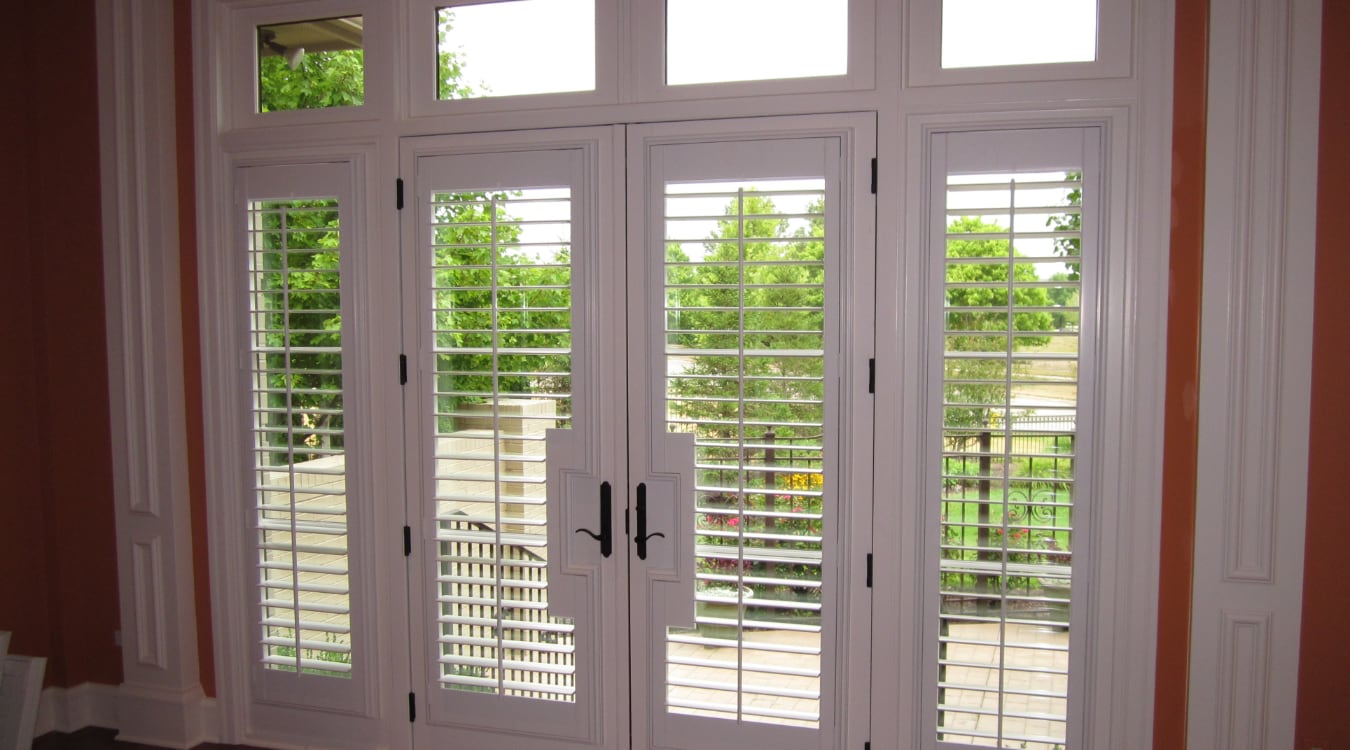 Image Source: Sunburst Shutters Cleveland
In order to optimize the openness, sidelites are a great alternative to making all of the panels moveable. Here, two sets of French doors provide you plenty of entry to the patio, and the sidelites, with their similar grille design, complete the appearance.
Tips to think about:
A more conventional but no less sophisticated option is a unit design in which the entrance is placed in the middle of the entrance or exit area. 

Provide a sense of security and modern style with fence-like screens.

When it comes to the secondary layer of your screen door, sturdy white metal borders will suffice, but don't forget the glass panels that lend a touch of minimalist elegance. 

Layer upon layer of white paint on the screen doors conveys the idea of adaptability and simplicity. 

Black knobs and backplates provide a nice, classic contrast.
Image Source: Guangzhou Minimalism Smart Windows and Doors Co., Ltd.
Privacy grilles, also known as door grilles, are used to provide airflow between various treated areas. Get both discretion and longevity with the help of metal.
Ideas to think about:
Using metal on an exterior sliding door is a great way to highlight its durability and sturdiness.

A modest house might benefit from a sliding door with two black handles and a separation in the middle. 

Glass panels, paired with parallel lines that extend horizontally at both ends, would boost productivity and make the space seem safer. 

Having aluminum black edging around your furniture will give it a more modern and streamlined appearance. 

Paint the walls white or grey to draw attention to the sliding door, but go for a deeper, more dramatic look by painting them dark grey if you're confident in your design skills. 
Image Source: Pinterest 
Sliding barn doors are a space-saving solution. Doors that swing outwards need clearance. Thus, they may cause obstructions in pathways or wall damage in confined areas. This sliding door style is great for small patios.
Ideas to contemplate:
A wooden door does portray a homey, rural atmosphere, so if that's your thing, you could want to install a few. 

Your doors will seem like they slide open and close much more easily if you double them up. One should have a classic look, while the other two doors should be solid and lock securely. Put some geometric patterns on it. 

Doors of varying styles but the same color should be a rule rather than an exception. 

To increase the door's dramatic effect, paint the borders and hardware (such as the black plates and doorknobs) black. 

Add a dash of contemporary style with glass partitions.
Image Source: Direct Doors
Tinted outdoor sliding doors block more light than clear ones. To achieve the dual goals of improved visibility and decreased solar glare, modern tints often use progressively lighter hues.
Consider the following tips:
Put some tints on your metal sliding door for some seclusion and a more authoritative appearance. 

Glass panels and horizontal lines at the door's edges will make it a stylish addition to your home. 

The huge contrast of white paint on the walls might be really appealing. 

Put the stainless knob on the side away from the wall for a striking contrast. Be sure to draw attention to it by giving it heavy black borders.
Extra Design With Screen Time 
Image Source: Forbes
In the event that you do not wish to carelessly allow in external elements. Screens installed over your patio entrance may greatly increase the amount of time you spend enjoying the outdoors.
Think about these suggestions:
As a second layer to your sliding outside door, a screen door is a minimalist alternative to grilles or elaborate designs. 

While shopping for sliding doors, keep in mind that glass panels increase its aesthetic value. 

A black sliding door will give your home a more modern and fierce appearance. Remember to draw some parallel lines over the glass as well. 

Make sure everything matches by using white paint on wood in a horizontal pattern for the wall. 

Add a touch of flair to your sliding door by placing a little platform there. The façade need not be tiled or painted. A more natural look would be achieved by leaving it as it is.

Conventional Sliding Door Series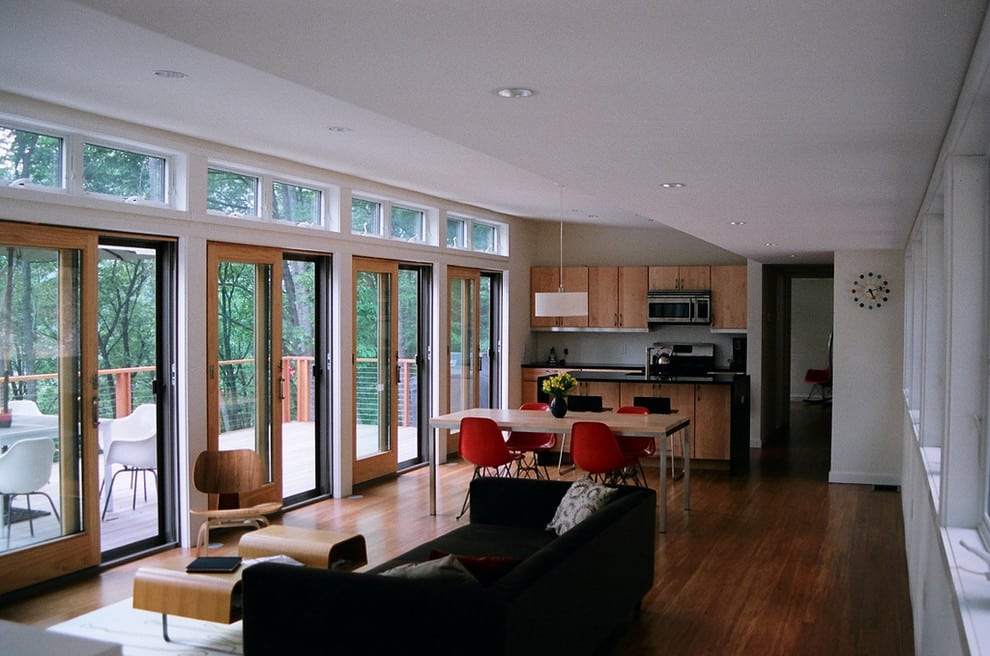 Image Source: Decor Snob
The best part of the design is yet to come. Don't think small if you have a lot of room to work with. Provide yourself the freedom to roam in times of rest by installing a series of sliding doors.
Some ideas to take into consideration:
You may have the best of both worlds by installing a sliding door with a wood edge on one side and an aluminum edge on the other. The result would undoubtedly be artistic. 

Adding some windows or glass panels above is a great way to let in natural light and complement the color scheme. 

Adding some white paint in the spaces between the glass panels would give the room a more modern and minimalistic vibe. 

Putting a step or two beneath the sliding door is unnecessary and will make the space seem disproportionate.

Ultra Wide Single Sliding Door
Image Source: Bradnam's Windows & Doors
This sliding door is an easy way to add a touch of class to any room. Not only is it simple to use, but it may save you time and money compared to coming up with creative door improvement ideas.
Suggestions that should be taken into consideration:
A minimalist touch might be an ultra-wide sliding door made of a single pane of glass. Those who own a house and like a panoramic view of the outdoors would appreciate this. 

Black aluminum edges would set it apart better from the wall and draw attention to it. Always remember that an alternative to white for a modern look is black. 

To convey a sense of ease, white or cream wall paint is recommended. 

Curtains hung to the side give a decorative touch, but if you like the entrance to be left open, that's your call.
Frequently Asked Questions: FAQs
How can I improve the aesthetics of my sliding door? 
Use plantation shutters or panel tracks to spruce up your sliding glass door's aesthetics and functionality. Both choices will soon pay for themselves by increasing your home's value, and they also provide significant improvements over the standard vinyl blind. It's simple to cover a sliding glass door with Sunburst Shutters. 
What distinguishes a patio door from a sliding door? 
The way in which these two doors open is the primary dividing line between them. Patio doors may either swing open inward or outward on a hinge or slide open to one side on a track, depending on the kind. 
Can you explain why sliding doors are preferable? 
Sliding doors' primary advantage is the amount of room they save. Sliding doors replace the swinging action of conventional hinged doors, saving valuable floor space. This makes them perfect for usage in closets and wardrobes, as well as compact areas.
Will a sliding door easily break? 
Tempered glass, which is used to make most sliding glass doors, is quite breakable. An attacker may easily shatter the door by throwing anything heavy through it or by slamming it with something forceful. When broken, tempered glass is supposed to shatter into small pieces without any sharp edges. 
Is there any way to prevent direct sunlight from entering a room via a sliding glass door? 
Curtains with linings are a good investment if your sliding door lets in a lot of direct sunlight. Installing filtering sheers (which you may keep closed) behind solid panels is a good solution for rooms with less-than-ideal views of the outdoors.
Final Words
Sliding doors take up far less room than swinging doors when opened and closed. A swinging door may cause someone to fall if they have to step off a short landing (such as those found at the top of stairs leading to a patio or deck). 
It's important to pay attention to the finer points of the door's design if you want to give your outdoor sliding door a facelift. The first step in updating the look of your patio is a fresh coat of paint on the old door. Whether it's a small fix or a complete overhaul, updating your patio door can breathe new life into your outdoor space.
You may always come to us for further ideas if you need them. Some examples are as follows:
11 Kitchen Sliding Doors Ideas that Add Beauty to your Kitchen
12 Ideas for Patio Doors That You Should Consider For Your Lovely Home