Several houses in Australia make use of convenient sliding doors. They are an attractive, practical, and stylish addition to any room since they combine the best qualities of windows and doors. As a bonus, they may boost the home's curb appeal and, in many circumstances, assist to bring nature inside. 
Finding the finest solutions to cover your sliding door panels may improve the aesthetics, comfort, and security of your house. 
Picking the right blind style and fabric for your sliding doors may have a significant impact on your heating and cooling bills. This will not only guarantee the blind continues to operate properly over time, but it will also provide for precise control over how much natural light enters the room. 
Questions to Ask Before Purchasing Sliding-Door Window Coverings 
Before you rush out and buy new blinds for your sliding glass doors, it's a good idea to make a list of the primary concerns and wants you hope to fulfill. Here's an example: 
Where exactly are these sliding doors located, and how often will members of your household or visitors be using them? 
On a typical day, how frequently will the blinds be opened and closed? 

Does the sliding door frame have a view that you'd rather not obscure? 

How much light filtering and privacy do you need from the blinds? 

Is it a hot window that causes the room to overheat? 

Do the doors go directly into wet spaces, such as the pool or spa, or are they located nearby?
Depending on your responses, several types of blinds may be recommended for your sliding door. Examples of window treatments that are inappropriate for heavy foot traffic are roman blinds and drapes made from floaty materials. 
You can customize your roller blinds to meet your needs by choosing from a wide range of fabrics, such as sunscreen fabric, which lets you see out while shielding you and your belongings from harmful UV rays, or block-out fabric, which completely blocks the sun and any outsiders from seeing inside your home.
Blinds or Shades that you should choose from: 
It's possible that you already have an idea of how you'd want your glass sliding doors to look with different window treatments, such as bespoke curtains. To help you decide, we have compiled a few of the most popular blinds that would be perfect for your sliding doors. 
Roller Shades for Patio Doors 
Image Source: Stoneside Blinds & Shades
If you need dependable covering for your sliding glass door, roller blinds are a fantastic option. Roller blinds are a great alternative for sliding doors since they are practical, come in a variety of styles, and complement any decor. Covering vast spaces or a number of doors at once, especially in high-traffic regions, maybe a breeze with these blinds. 
Roller blinds are convenient since they can be moved to any desired position and repositioned at will, and they may also be put in pairs, with one blind remaining open while the other is closed, allowing for an unhindered passageway. When closed, they leave almost little space between the two surfaces, allowing for more control over natural light or privacy.
Two Sliding Shades 
Image Source: Atrium Windows & Doors
If a homeowner needs additional flexibility from their door blinds, double roller blinds may be a good option. These blinds, which consist of two separate but interchangeable alternatives, provide the advantages of two distinct fabrics, allowing you to control the amount of light coming into the room, the amount of heat generated, and the level of seclusion you want. 
You might have the flexibility of having one roller blind made of blackout cloth and the other made of sunscreen or a light filter roller blind.
Roman Shades for French Doors 
Image Source: Pinterest
Roman blinds are a great option for individuals who want to complement a more elegant style of interior design. Whether open or closed, these blinds give a room or window frame a more refined and cozy vibe. 
Roman blinds may be custom-made to fit any color scheme, making them a versatile window treatment option. Roman blinds, like curtains, are made from creatively folded scraps of cloth. Because of the inconvenience of having to constantly open and shut them, they are not ideal for high-traffic areas. 
The bulkiness and possible fabric wear from constant brushing by passers-by is the biggest issue here. Yet, they function best in locations with little to no foot activity.
Sliding-Door Vertical Blinds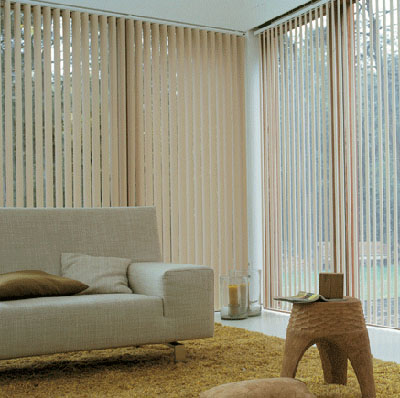 Image Source: Blinds Philippines
Blinds for sliding doors may come in many shapes and sizes, but one of the most adaptable is the vertical kind. This is due to the fact that the panels of a vertical blind may be stacked to the far left, right, or center, allowing the homeowner to tailor the blinds to their specific requirements. They don't entirely shut out the sun, but they can be adjusted to bring in more light or keep prying eyes out. 
Vertical blinds are one-of-a-kind because they can move in tandem with a sliding door, so they never obstruct your view. The vertical panels will shade the space, regulate temperatures, and offer mild insulation, even if some soft light will leak through the gaps.
Stylish Sliding-Door Venetian Blinds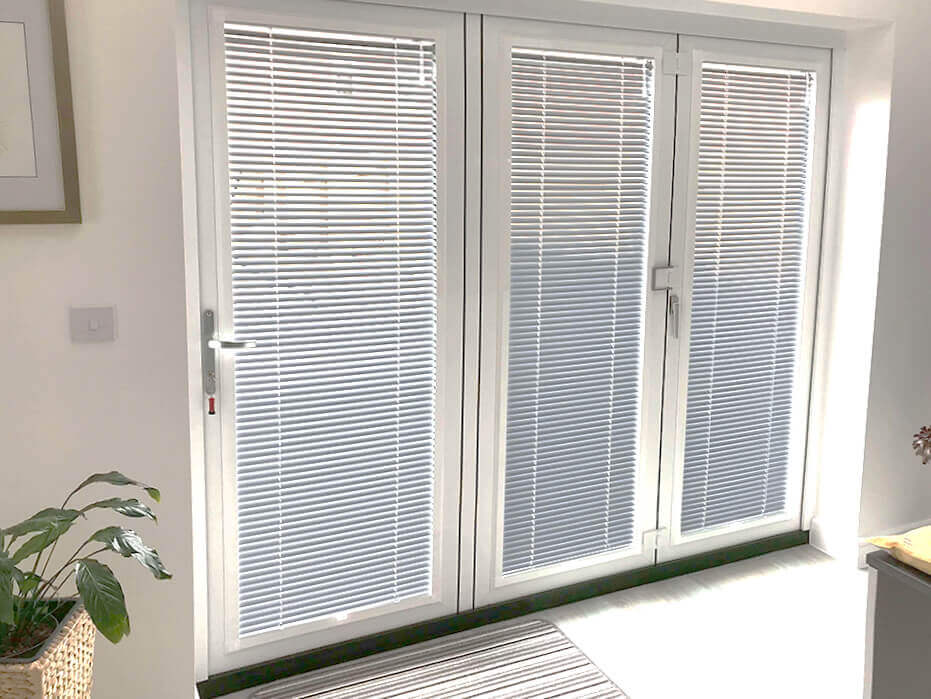 Image Source: Leamington Blinds
Venetian blinds are a popular option for traditional windows, but they aren't the best choice for sliding glass doors. This is because increasing the number of panels on a blind also increases its weight, making it more cumbersome to open and shut on a frequent basis. 
For the benefit of convenience, we advise going with two blinds if the rest of the house or room already has this kind of blind placed and matching the installation on your sliding door.
Sliding Shutter Panels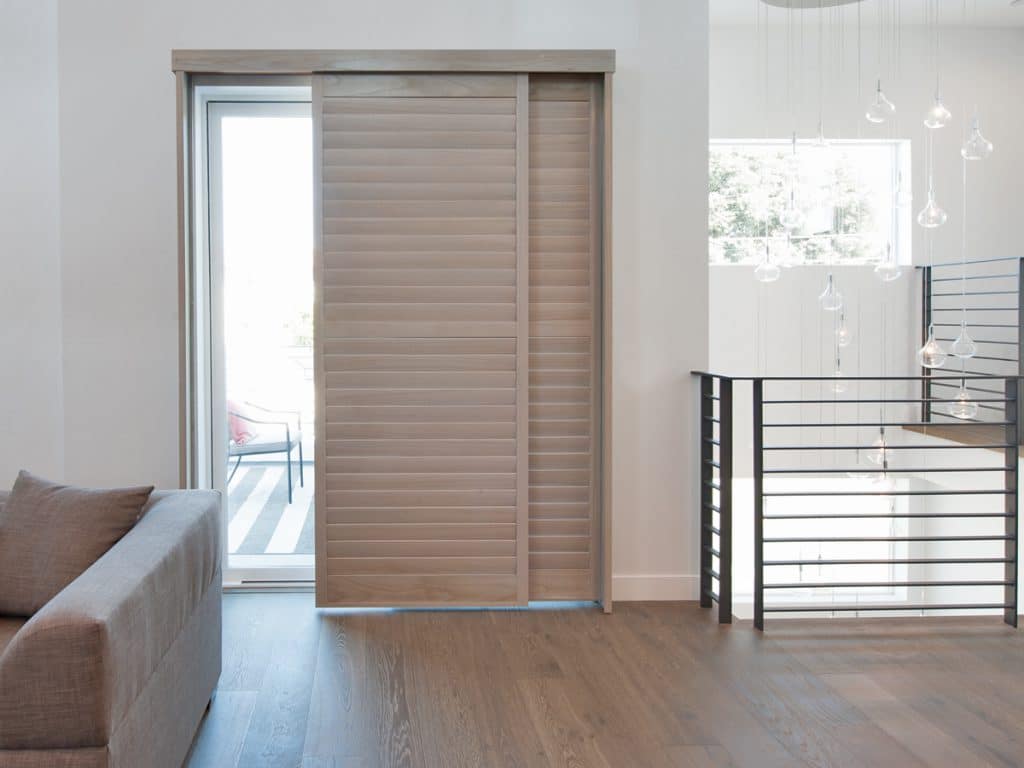 Image Source: Norman Window Fashions
White, sliding plantation shutters not only provide privacy but also obscure the view and reduce ambient light. 
There are many different kinds of shutters. But, sliding shutter panels are our top pick. They may be moved easily to the side, much like vertical blinds. On the other hand, some of them will fold when you open them. 
This choice has a beautiful aesthetic but might lead to storage or space problems. The insulating and light-blocking characteristics of shutters are also noteworthy. In addition, there is a wide selection available so that they may complement a wide range of aesthetic preferences.
Decorative Plantation Shutters 
Image Source: Budget Blinds
A stunning contemporary dining room with floor-to-ceiling plantation shutters for added seclusion and ambiance. 
Plantation shutters have a much more straightforward appearance. Their timeless beauty goes well with any design scheme. 
In addition, many plantation shutters include a locking system that cannot be opened by a kid. In addition, they are built to last longer than conventional window coverings.
Blinds with a Silhouette Design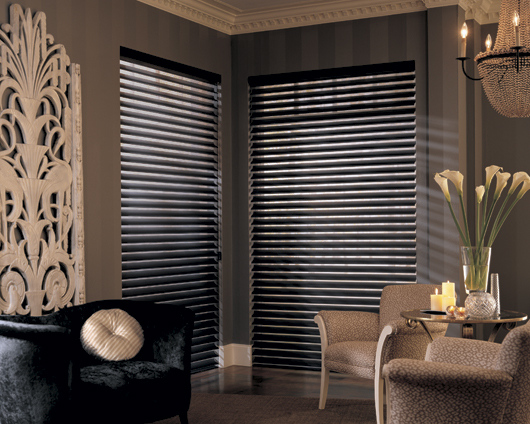 Image Source: Decorating Decor Interiors
The popularity of Silhouette Shades continues to grow each year. Since the shadings are so classic, this look keeps gaining popularity. 
Their contemporary design is an advancement on the traditional blinds, with sheers interspersed throughout the vanes. This sheer may be made more opaque or transparent, depending on the user's preference. Light and privacy may be controlled with little effort.  
Artificial Wood Shutters
Image Source: Sengerson
 Everwood Alternative Wood Blinds, also known as Faux Wood Blinds, simulate real wood blinds while providing the durability of contemporary materials. Get the look of hardwood without the hassle of regular maintenance. 
The traditional aesthetics of EverWood Alternative Wood Blinds are preserved even after prolonged exposure to light and moisture. They maintain their attractive appearance and shape over time, making them a desirable choice for humid environments like restrooms and dry ones like sunrooms. You may customize your purchase by picking from a wide variety of color options, realistic surface treatments, and ornamental additions from your trusted store. 
Final Words
Sliding-door blinds are a convenient alternative to leaving the door open, letting in fresh air and light, and maintaining some degree of privacy in the house. 
Roller blinds, double roller blinds, and vertical blinds are all examples of window coverings that may be used to conceal a door's glass while still allowing for easy passage. The roller blind is still the most practical choice since it can be purchased in a variety of materials (including blackout, sunscreen, and transparent) and can be easily adjusted to let in or keep out a comfortable amount of light even over large windows and sliding glass doors. 
You may, however, go farther. Honeycomb blinds, curtains, panel blinds, and plantation shutters are all options worth exploring if they work in your space. Be sure they are a good match for what you need.
We understand how informative this article is which is why we are giving you tons of articles like this one:
15 Inspiring Ideas for Interior Sliding Doors That Will Get You Excited 
12 Sliding Door Curtain Ideas You Should Probably Bear In Mind
11 Kitchen Sliding Doors Ideas that Add Beauty to your Kitchen