One of the nicest choices you can make for your home's entrance is a set of sliding doors. Sliding doors are not only very functional but also lend a distinct touch of class and individuality to whatever room they are installed in. Sliding door handles ranging from the basic to the ornate are included here, including options with locks and metallic details. 
Sliding door handle types may be broad but we will make sure that you get the perfect sliding door handle for your needs by examining the options below.
Types of Sliding Door Handles 
Chrome Sliding Door Handle
Image Source: Premium Hardware
Incorporating metallic details into your sliding door design? Chrome is one of the sleekest and most modern options. Chrome, in contrast to many other metallic accents, is ideal for striking the correct balance between a daring style and an appropriate amount of refinement.
Inset Pull Handles for Sliding Doors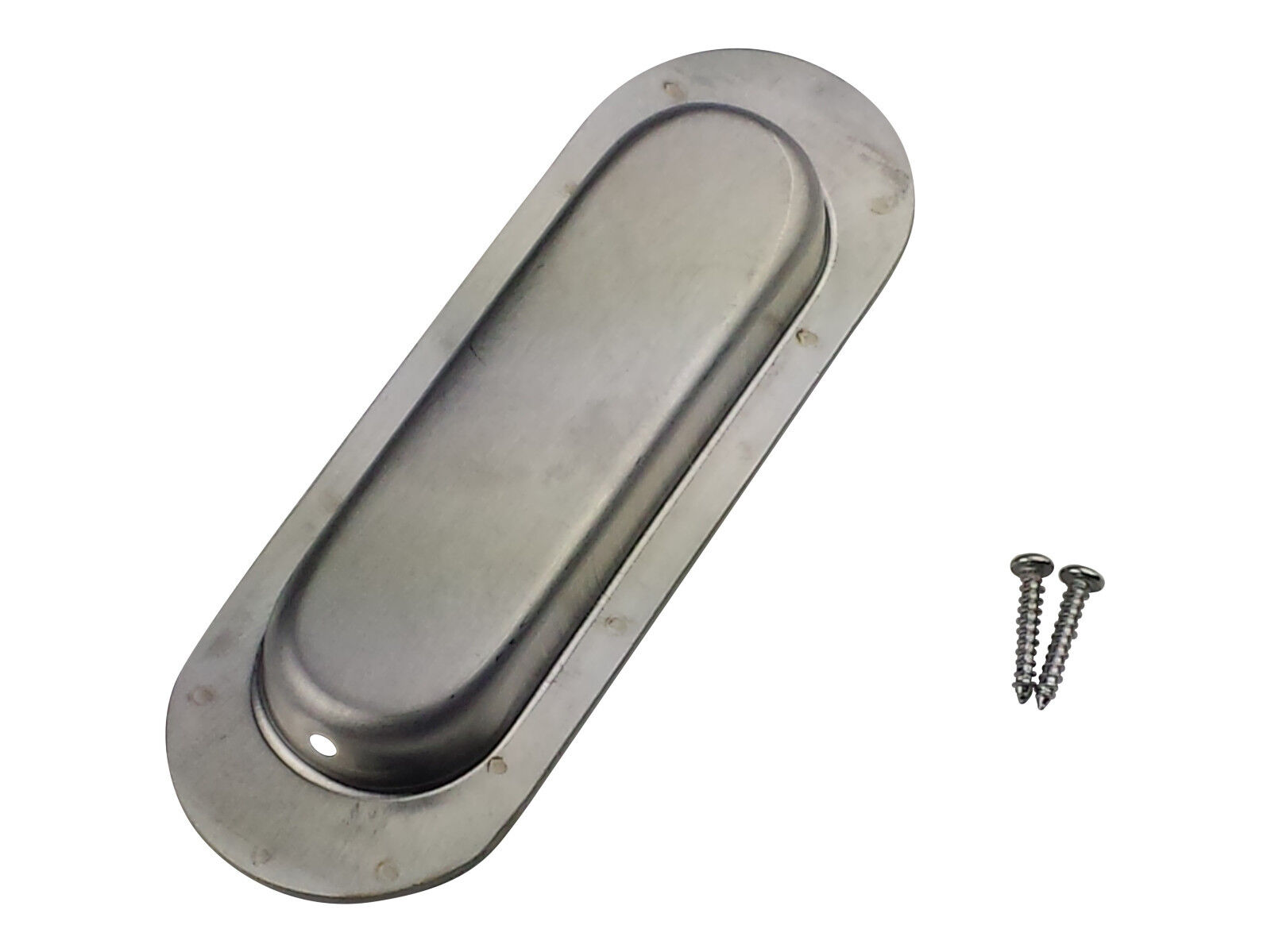 Image Source: eBay
The market is rife with options for door handles for sliding doors, but recessed handles are among the most popular. The clean lines and understated elegance of these knobs are a perfect complement to recessed doors made of wood.
Decorative Gold Pull for Sliding Door 
Image Source: Lazada Philippines
Gold, grey and black is other metals that will add a touch of class to your sliding door and is a safe bet. When you want to add a touch of classic elegance and timelessness, gold is your best option. Gold knobs on sliding closet doors are also a good option.
Locking Handle for a Sliding Door 
Image Source: Ubuy Philippines
If you want your sliding door to be both visually pleasing and very practical, you should install handles that include a locking element. These knobs and pulls aren't only for doors, however; they also look great on windows and furniture.
Sliding Glass Door Lever Handle 
Image Source: Roto North America
The use of lever handles is not limited to swinging doors; they may also be used on sliding doors. Adding a lever handle to your sliding door is a great way to make it more functional.
Miniature Pull Handles for Sliding Doors 
Image Source: Lazada Philippines
Sliding door handles come in a wide variety of sizes, so don't feel like you have to settle for anything huge. Miniature sliding door knobs are another option for a clean appearance.
Standard Pulls for Sliding Doors 
Image Source: MagicBricks
Choosing handles in a classic design is a great approach to give your sliding doors a look that will stand the test of time. The classic design is perfect for sliding wardrobe door handles as well as other furniture knobs including those on vanities, nightstands, and dressers.
Pulls for a Sliding Door in a Block Design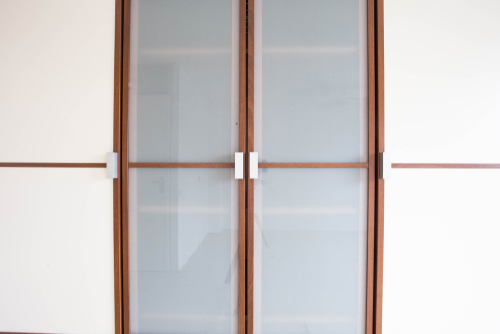 Image Source: MagicBricks
Using block-style knobs on your sliding doors is a certain way to achieve a minimalistic aesthetic. Glass sliding door knobs made from solid blocks are another option. Pieces of furniture like closets and dressers benefit greatly from a blocky design.
An Ornate Pull Made Of Brass For A Sliding Door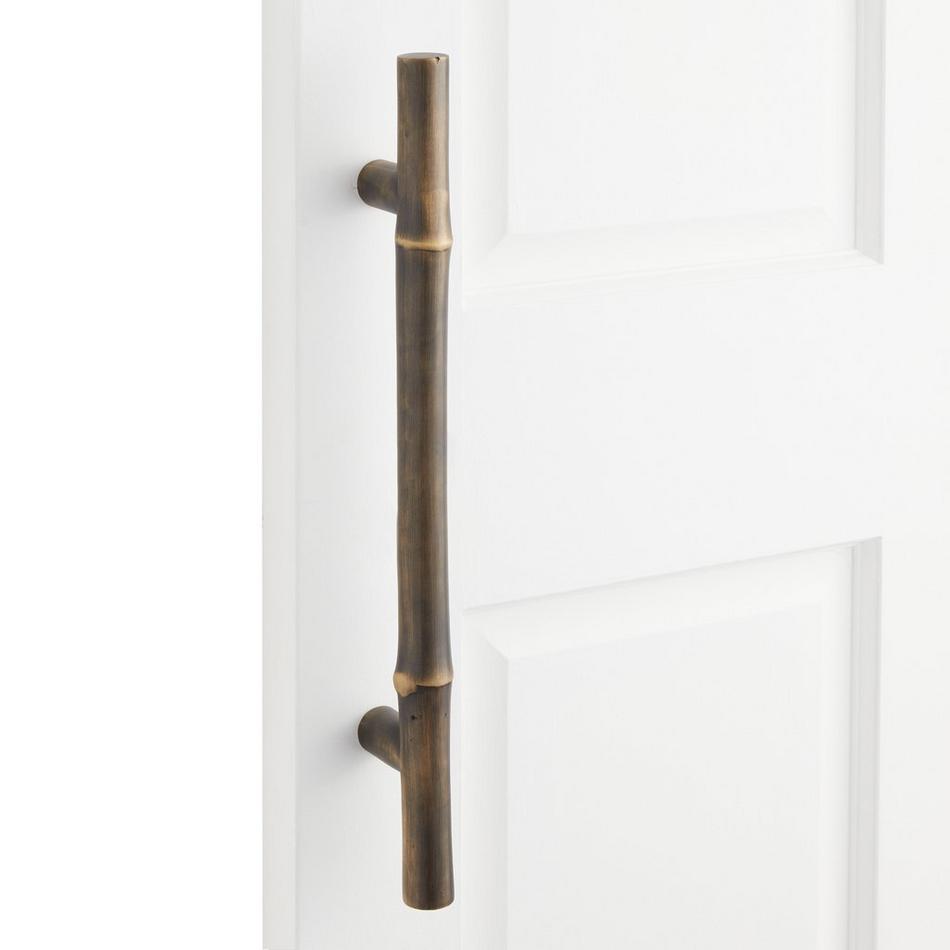 Image Source: Signature Hardware
A sliding door with a brass finish will appear just as elegant as one with a copper one. Sliding wooden doors benefit greatly from being outfitted with brass pulls. Brass knobs and pulls are versatile enough to be used on a wide range of furniture.
Locking Sliding Door Lever Made of Metal 
Image Source: Lazada Philippines
Modern finishes like stainless steel and chrome are great options if you're shopping for a sliding door handle with a separate lock mechanism. As a result of taking this course of action, the sliding door will take on an air of modernity and Vastu-like gravitas.
What kinds of materials are used to create the handles? 
Unless they were crafted from wrought iron or another specialty metal, door knobs were often made of brass in the past. Lacquering the brass handles makes them more durable. The basic brass would have needed an application to achieve additional finishes, such as polished chrome. 
In the new millennium, zinc bases became popular among manufacturers due to their low production costs and lightweight. Much like brass, several finishes were achieved by using the appropriate application.
In what ways does a door's internal handle function? 
Spindle –  may be found on the rear of a handle or knob in the square holes. In a tubular latch or mortise lock, it enters via the "follower," also called a spindle hole. A spindle within a door handle or knob spins when the handle or knob is twisted, releasing or locking the door. By doing so, the llatchbolt (latch tongue) is retracted and the door may be opened. 
Spindles are available in two different diameters: 8mm, which is used for door handles and knobs, and 5mm, which is used for bathroom turn and release bolts. 
Spring-loaded: These days, most handles come with springs already installed. After the door handle is withdrawn, a spring concealed inside the backplate or rose will restore it to its original position. This is crucial for maintaining the handle or lever in place, preventing unsightly drooping. 
Unsprung – On certain knobs and older handles, the spring may not be in place. They'll rely on the door lock's spring to put them back in place, so make sure it's a sturdy one. 
Sprung on one side only – Some mortice knobs, on the other hand, are only springy on one side. If we spring both sides, the knob will be very stiff to turn. A single turn of the knob may be too much for the latch spring to overcome if there was no spring at all. The optimum middle ground is achieved by merely partially relaxing the springs on one side.
Other Things to Consider When Choosing A Door Handle:
Finishing 
You need to get a popular finish that works with the rest of your decor from the options now available. Acquiring a Shiny Disc: Light is reflected and spreads through a home that has been polished and coated with steel, giving the sense of more room and brightness. Stainless steel's understated sheen complements and complements any contemporary decor, and polished door knobs provide superior performance, durability, and quality over the long term for every door in the house. 
Brushed Finish: Brushed finishes are great for minimal homes that wish to play around with texture because of their subtlety and softness. As a result, it requires little upkeep and looks great for a long time with less effort. 
Antique Tarnish Finish: this type of finish which mimics the impression of hand-worked metal, is a popular option for homes with a historical or architectural theme. Its matt finish adds to its worn authenticity. 
Satin Finish: It has a frosted appearance and a satin finish. Satin's understated sheen makes fingerprints difficult to see. They are great for high-traffic areas like corridors, where doors are constantly being opened and closed.
Color/Texture: 
A door handle in a color that complements your interior design scheme is readily accessible. 
Black: The continuing fashion for black accents is a boon to front entrance furnishings. Whether you pair this bold color with a minimalist white pattern for a monochromatic vibe or a wooden door knob for a more traditional feel, the options are endless. 
Nickel: Because of its yellow undertone, nickel seems warmer than other silvery metals. It elevates the aesthetic value of door knobs. 
Aluminum: When combined with a brushed finish, the color aluminum becomes a tactile element that may help soften the design. 
Chrome: Because of its durability and sleek appearance, chrome door knobs are often used in Indian homes. 
Brass: Brass door knobs which have a golden sheen and exude opulence, are a popular choice. 
Stainless Steel: The usage of stainless steel in door knobs is a timeless design choice that will never go out of style.
Designs: 
Door knobs come in a wide variety of styles, including these: 
Contemporary: Doorknobs with contemporary designs, such as those seen in many newer homes, are characterized by their sleek, geometric forms and little ornamentation. When installed in entrances, they provide a beautiful aesthetic touch. 
Traditional: They are perfect for homes with a vintage or traditional aesthetic. It's very appealing when combined with weathered metal. Doorknobs and doorknob sets with distinctively Victorian motifs are immediately recognizable. You may get them in rich tones like brass, which give any space an air of polished elegance. 
Modern: A home with modern door knobs has a clean, sophisticated appeal. Their simplicity draws attention to the inherent modesty of their appearance.
Shapes: 
It's vital to choose shapes that highlight your door's unique color scheme and design. 
Oval: Door knobs will take on a more cylindrical shape without a defined border and will be linked to doorplates with rounded corners. Oval, generally shiny and smooth, door knobs are the norm. 
Round: These door knobs and handles are both exactly round, but for different reasons. They're pre-mounted on a circular plate. 
Angular: These door knobs feature backplates in the shape of a rectangle or square, giving them an angular appearance. The handle, like the rest of the tool, is square and has sharp corners. 
Conventional: A huge rectangular backplate and a swanky, curving handle characterize the classic Victorian design. You may usually get them in brass. Front door knobs in contemporary and modern styles are often unobtrusive, minimalist, and sleek. Chrome or a bold hue like bronze or black are popular options, and they often have a minimalist backplate or none at all.
A few things to keep in mind while picking door knobs:
It is important that the color, the primary door handle design, and the aesthetics all work together to complement the space. 
As such, the material of the handle should be chosen with consideration for the intended environment. Door knobs in the bathroom and kitchen, for instance, should not deteriorate when exposed to hot water or steam. 
Handles on doors leading to a balcony or terrace should be made of rust- and moisture-resistant, sturdy material. 
Integrity is key for the primary door handle so that security is difficult to breach. 
Pay close attention to the unique criteria if they exist. If a member of your family is physically impaired, for instance, you should install door handles that are user-friendly and easy to use.
Size and Measurement:
Let's go on to the next step and measure the handle of your sliding patio door. There are just two dimensions you need to double-check when sizing a door knob. The following are the dimensions in question. 
Distance between the center of two adjacent holes drilled onto the backplate for mounting screws. 
The PZ Centres are measured from the center of the square spindle hole to the center of the circular keyhole. 
A gadget that can accurately measure uPVC door handles is at our disposal. 
Tightening Patio Door Handle: 
Loose door handles are simple to repair. In most cases, a simple tightening of the screws is all that's needed. The two screws on the interior of the handle may be tightened using a Phillips screwdriver. 
If the issue remains after tightening the screws, it's possible that the threads on the patio door handle are broken. 
Handle Changing:
The handle of a patio door may usually be replaced by taking out two screws. Now that we've finished the measurement we discussed previously. After you take out the two screws on the inside of the door's handle, the handle should come right off.
The Best Sliding Door Hardware Manufacturers 
When it comes to hardware for sliding door systems, quality and creativity are paramount. To help you choose the finest hardware for your sliding doors, we've compiled a list of some of the most popular manufacturers currently available. 
Hettich 
Hettich's hardware selection consists of door hinges, drawer systems, drawer runners, sliding and folding door systems, and CUBE storage systems. 
Hafele 
When it comes to standard, sliding, and folding doors, Hafele is one of the greatest hardware manufacturers because of the quality of their pull and lever handle designs. In addition to making locks and seals, they also make emergency escape devices, door controllers, window friction hinges and bolt systems, and more. 
Salice 
Salice is known for producing high-quality hinges, runners, drawers, lift systems, furniture accessories, sliding systems, dampers, and release devices. 
Ozone
Glassage series architectural glass fittings, Ozo Motion series sensor doors and intelligent locks, Balustrades series railing solutions, Fire and Security Doors series. 
Sugatsune 
Sliding and folding door hardware, pocket door hardware, multiple synchronized sliding door hardware, self-closing slide door hardware, sliding door rollers, stackable partition door hardware, rolling door hardware, lever handles, dampers, and stoppers are all available from Sugatsune. 
Raumplus 
Customizable sliding doors, dividers, closet systems, slanted ceiling solutions, corner solutions, and dressers are the company's bread and butter. 
Dormakaba 
Door closers, keyed sliding door locks, locks, fittings, emergency exit systems, and swing doors, revolving doors, and sliding doors are just a few examples of the many products Dormakaba offers. The company also provides mechanical key systems, movable walls, lodging systems, interior glass systems, and more.
Frequently Asked Questions: FAQs
When closing a sliding glass door, how do the locks operate? 
As there are several locking options for sliding doors, you should anticipate unique locking systems. Our team has compared and contrasted the effectiveness of the aforementioned locks on sliding glass doors. 
Nonetheless, spring is often what activates the lock on a sliding glass door. Door springs are housed inside the bolts, and their contraction allows the door to be opened. When closed, the spring is energized, and the latch is locked in place. 
How can I unlock a sliding glass door that is locked from the outside? 
The first step is to check to see whether the window is open. If the window is closed, you will need to wedge the pry bar between the sill and the glass. Ideally, it would be 6 inches from the slider's base and at a 45-degree angle with respect to the latch. 
Next, pry it up as high as you can and then gently tilt the sliding door to release the lock. You may anticipate the door unlocking when this is done. Make sure it works by trying to open the door fully. 
When it comes to security, how can you best fortify a glass sliding door? 
Several methods exist for fortifying your sliding glass doors against intruders. Intruders often target them because, for one, their locks are simple to pick. Two, they are often left unlocked, and three, they are in inconspicuous locations, such as the house's rear. Here are some suggestions for increasing safety and making them less appealing targets for would-be thieves. 
Before you go, make sure the track is secure by inserting a bar. In place of standard doors, you could choose to put in sliding ones that can withstand impacts. 
Mount closed-circuit television cameras, glass-break detectors, or door sensors. 
You should upgrade the lock on your sliding glass doors for further safety. 
Take care to keep the rails in good condition. 
Are there any smart locks made for sliding doors?  
Indeed, there are. Standard surface mount locks are available. Among the customizable features they provide are biometric locks, auto locks, and smartphone apps that may be used to increase home safety. 
Both keypad entry and retinal scanning are supported for business buildings. Lockey is one of the most well-known and high-end smart locks for sliding doors on the market. 
Is it possible to use a keypad lock on a sliding door?
Yes. Sliding doors are often fitted with many locks, including keypad locks, to increase safety. In terms of sliding doors, the hook and bolt lock is perhaps the only lock that won't operate with a keypad lock.
Final Words
Whether they're large, little, round, square, plain, fancy, or antique, door handles are always a necessary addition to every door. Changing the door knobs in your home is a big deal, so it's important to do it correctly. Before you make any decisions, give this article a full go-through. 
Accessing photographs and videos of various sorts of handles may make your online shopping experience more exciting and enjoyable.
We have plenty of articles left for you to read in case you want to read more: 
Written By: Trisha Mae Raymundo